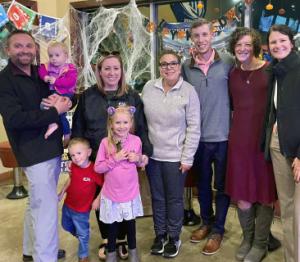 From the level of success David Clinger is achieving, you would think he's operating a franchise in the heart of a major city.  By Brianna Bohn
From the level of success David Clinger is achieving, you would think he's operating a franchise in the heart of a major city. However, Clinger proudly serves the Northwest region of Ohio, and after being in business for only a year, he already has one of the fastest-growing locations in City Wide Facility Solutions' history. While countless hours of hard work and family encouragement have contributed to his location's growth, Clinger shared that the path to success has been fairly straightforward.  
"During the vetting process, I talked to many owners, and they all said the same thing: 'Follow the model.' If you follow the model and execute building a team, you can be very successful doing this," he said. 
Fortunately, for City Wide Facility Solutions' 125 franchisees and 96 franchise locations, there are plenty of tools available to grow in the more than $100 billion building maintenance Industry. 
"The training available through our online learning portal, City Wide You, is phenomenal. It's rare to see this level of resources available within a corporate organization or franchise concept," said Clinger, who has almost two decades of sales and business management experience yet credits his success to his team and the brand's "well-established system."
Since opening, Clinger has used his former know-how and skills learned from City Wide You to train his salespeople and managers. Employees go out in the field to build relationships with commercial clients and then those clients' needs are met by utilizing a network of high-quality independent contractors. Unlike other companies that may offer a few services, City Wide Facility Solutions is a one-stop solution, providing commercial cleaning, janitorial services and 20 additional services. This model allows franchisees to scale their business quickly with multiple revenue streams. 
And Clinger has done just that. 
"At the first week of our new franchisee orientation, which is a 10-week process, David already had accounts he sold, which is a testament to his leadership, business acumen and the grit that he has," said Kasey Skala, director of marketing. "The minute he signed the agreement, he was out prospecting and grinding." 
Clinger also has tapped into another City Wide Facility Solutions resource – its network of franchisees – to continue his growth. 
"I'm surrounded by successful locations. The Columbus location has been instrumental in our growth. We also work closely with the Michigan, Ohio and Indiana locations. I know I can make a call to another franchisee and they will pick up and help," said Clinger.
All of these support systems have helped Clinger build a foundation in which he can continue to work hard and see results. "We're 100% in the grind and growth mode right now. Our accelerated growth has allowed me to already start looking at other positions to expand, and, as we follow the model and the hiring triggers, we're able to pull those triggers sooner rather than later," he said. 
While scaling a concept is significant for any business, City Wide Facility Solution's franchisees witness an impact that is much larger than most other companies can imagine. 
"One thing that has been pretty cool is the ripple effect. What we do directly impacts our employees' lives as well as independent partners who can grow their own businesses and revenue streams because of us," Clinger explained. 
Potential franchisees who want to invest in their future and their community can access ​​large, exclusive territories in the U.S. and Canada today.
Brianna Bohn