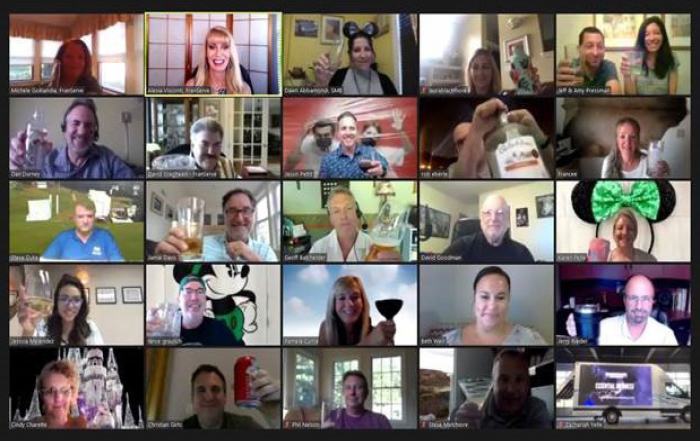 With this year's convention booked for the first time at Disney World in Orlando, the four-day convention was slated to be the grandest yet for FranServe Inc., the world's largest franchise consulting organization. After all, who wouldn't want to sip champagne while enjoying fireworks from a private lounge at Epcot? (Yes, that was actually on the agenda!) By Rochelle Miller
With this year's convention booked for the first time at Disney World in Orlando, the four-day convention was slated to be the grandest yet for FranServe Inc., the world's largest franchise consulting organization. After all, who wouldn't want to sip champagne while enjoying fireworks from a private lounge at Epcot? (Yes, that was actually on the agenda!)
When COVID-19 led to the theme park's unprecedented closure, no one gave up hope; eventually, it became clear that the gala event would not be able to be conducted "where dreams come true." The reality of the situation forced FranServe CEO Alesia Visconti to think of alternatives for their huge event. Cancellation was never an option, as Visconti was not going to let this derail plans for a successful convention of the largest franchise consulting and expansion organization in the world.
Instead, Visconti got to work and started planning FranServe's first virtual convention. With only six weeks to turn the in-person event at Disney World into an incredible virtual experience, Visconti took a deep breath and forged forward. "I wanted it to still feel like a VIP event. I am happy to say we had 400+ attendees, and at the end of the sessions each day, hundreds showed up at happy hour with drinks in hand," Visconti said of the virtual event that ran from Monday, July 13, through Wednesday, July 15. "It went great!"
By incorporating fun activities along with educational and networking opportunities, the event's Zoom room remained packed throughout the three-day conference. "The last session of the last day was as full as the first session of the first day," Visconti beamed. "We had franchisors saying it was the best virtual convention they had attended!"
Visconti tied in the event's original roots by greeting her virtual guests donning Mickey Mouse ears. Event participants soon joined in on the fun, opting to use Disney backgrounds during their Zoom appearances. "That was the challenge with a virtual convention – how do you keep that really high energy? How do you still have some Disney magic?" Visconti explained.
Perhaps most importantly, the convention also provided networking opportunities in the form of social interactions. "That kept people engaged. I wanted people's personalities to come through, and for people to have fun while learning. Virtual events can be so dry," she said.
FranServe Franchise Consultants were also quick to join in the fun. Arranged into color groups for organizational purposes, the groups turned to a little friendly competition, each trying to earn bragging rights for being the most-engaged team. It was a close call, but the winning team was the GREEN Team, led by FranServe Consultant Lance Graulich, CFC. They even received praise from the franchisors for being such an active group.
Along with having fun, this year's convention set out to fulfill several goals, with education being at the forefront. Franchise brands from FranServe's portfolio of 550+ brands were able to deliver presentations to support consultants' efforts and bring business opportunities to potential franchise owners.
The event also provided a venue to build camaraderie in the franchising world. "We feel it's a family, a 'fran-family' if you will. It's not often that everybody is under one roof, even a virtual roof," Visconti explained, adding that though they were not able to be in the same room, it was a powerful experience viewing a live mosaic of all of the participants' faces at once.
FranServe is already planning next summer's convention at Disney World, so attendees have plenty to look forward to in 2021. If, for whatever reason, that event has to go virtual, Visconti and her team are ready to deliver an incredible experience. Either way, the innovative company will set the bar high.
In the end, there was an important silver lining for anyone who would not have felt comfortable traveling due to this year's circumstances. "Under normal circumstances, we all would have preferred to be in Disney World, but the good thing about having it virtual this year was it didn't make anyone have to choose," Visconti explained. "It took away a lot of that angst for our attendees."
In keeping with the spirit of a virtual environment, the theme of this year's event was dubbed #FranchiseStrong. "That is my favorite hashtag on social media because franchising will always survive and prosper," Visconti said. "We're entrepreneurs, and we always find other ways to keep business moving forward."
For more information about FranServe, visit franserve.com or call 800-206-5454.
– Rochelle Miller