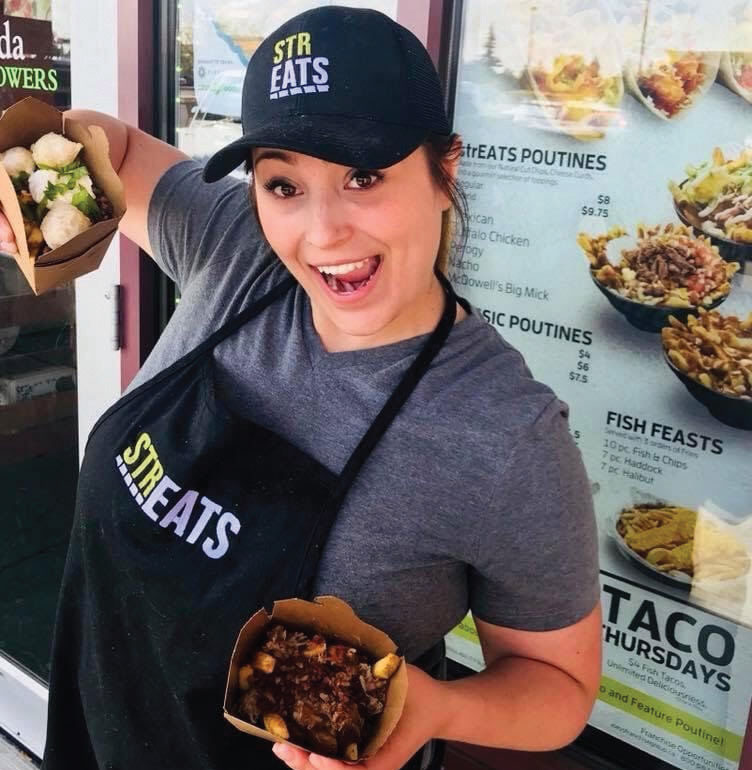 An innovative eatery that serves globally inspired street food with the freshest ingredients, strEATS has been a staple in 15 communities across Canada since 2017. Known for its delicious dishes, like the tandoori naan taco, chicken waffle poutine and tropical shrimp bowl, the brand has also been making an impact in the communities it serves. By Brianna Bohn
Nikita Kish Shares Her Success Story
An innovative eatery that serves globally inspired street food with the freshest ingredients, strEATS has been a staple in 15 communities across Canada since 2017. Known for its delicious dishes, like the tandoori naan taco, chicken waffle poutine and tropical shrimp bowl, the brand has also been making an impact in the communities it serves, with its 100% compostable servingware and ongoing "food raiser."
When Nikita Kish, who had spent over a decade feeling unfulfilled working in the service industry, learned about strEATS' franchise offering, she knew that she had to take a bite of the appetizing opportunity. "My job was becoming less fulfilling as the years went by, and I wanted more freedom to live my life while still doing what I loved – connecting with people. I had the opportunity to be one of the first strEATS to open, and it was one of the best decisions in my life." said Kish, owner of the West Lethbridge location.
Although Kish has many years of experience in the restaurant industry and even worked as a server at Joey's Seafood, strEATS' sister franchise, she appreciates the support of the brand, which she calls her family. Franchisees participate in a four-week training program and receive innovative digital-marketing programs, real-estate selection support, construction and project management, and ongoing operational expertise and oversight.
"They always have your best interest at heart," Kish said. "You are given a road map of what you need to do to get started, and they help you every step of the way. The faces and hearts behind the scenes of this franchise are intelligent, driven, goofy, and loyal."
She loves the brand so much and has seen such great growth that she is opening her second Lethbridge location this month. Kish, who said her favorite part of being a strEATS franchise owner is building connections with others, couldn't be more pleased with the decision she made.
"I'm 34 years old now, own two strEATS locations, and there hasn't been a single day where I dread going to work. I'm pretty grateful," Kish said.
Brianna Bohn
Contact: joeysfranchisegroup.ca/str-eats