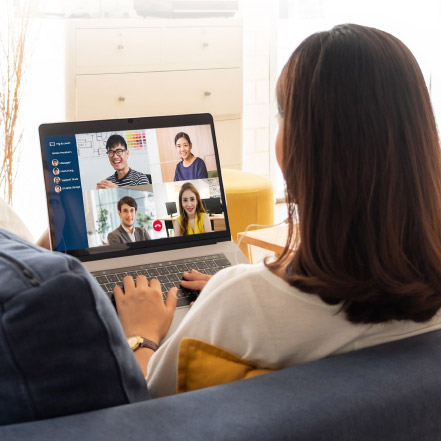 FranServe Inc., the world's largest franchise consulting organization, held its 2020 convention – which to no one's surprise in our "new normal Covid-19 world" was held virtually, replacing the original in-person convention. By Alesia Visconti
FranServe Inc., the world's largest franchise consulting organization, held its 2020 convention – which to no one's surprise in our "new normal Covid-19 world" was held virtually, replacing the original in-person convention.
There were 400+ attendees, and it's being touted by all as a highly successful event. Some franchisors went as far as calling it the best virtual event that they have attended, and asking me for advice/tips. I don't say that in a bragging way; I say it as a sigh of relief!! There is a lot of angst that goes into planning a virtual convention (especially in just six weeks) and all the planning in the world still can't guarantee success, or that technology will cooperate.
Originally planned to be held at Disney World, the FranServe Team indeed had 6 weeks to figure out how to deliver an event with "magic" and excitement to keep enthusiasm – and attendance – high. After all, our in-person event included private viewing of fireworks over Epcot. Not an experience we could genuinely recreate virtually.
We received a great deal of kudos and incredible feedback, and I've been asked to share what worked for us. It may not work for you or your event, but hopefully something will be applicable/resonate with you and help your event go even smoother.
KEY POINTS
We kept our same dates. I never considered moving our convention. No guarantee a later date would permit anything in-person and everyone was already primed for our July dates. It was on everyone's calendar already. Locked and loaded!
We shortened the dates taking our 4 day in-person event to a 2 1/2 day virtual event.
We used Zoom. We looked at other platforms but because soooo many people have used Zoom we felt the familiarity would make attendees more likely to engage. Nothing new for them to learn.
We did everything in-house. This wasn't initially a conscious decision: Zoom had a backup of several months for anyone from their company to host or lend support for an event. That said, it turned out – at least for us – to be a godsend that we did everything in house because, well let's face it, no one was more determined for us to be successful than us.
Everyone pitched in with intensity. I have to say it – I am blessed with an AWESOME team! Each team member concentrated on their assigned task with laser focus. Think of it like people concentrating on their puzzle piece which turns into an overall picture. I had the best birds-eye view but with an unprecedented event such as this, I couldn't be sure I was seeing the whole picture. So…
We did a lot of dry runs. I knew we had a plethora of moving parts, a general session held in a main room, plus six breakout rooms operating concurrently – and continuously. People were going to be constantly moving from room to room per our scheduled events. So we did another dry run (and another, and another) and finally worked out the bugs.
We over-communicated everything. We made sure everyone knew when and where they we supposed to be at all times. Speaking time schedules were relayed to the franchise brands conducting presentations again and again. With 400+ people attending and more than 100 franchise brands presenting several times a day to our FranServe Franchise Consultants, keeping on schedule was critical! A 15-minute delay anywhere would create a very negative domino effect.
We scheduled a 10-minute morning and a 10-minute afternoon break as well as a 45-minute lunch break. Our days were long (10 a.m.–6 p.m. EDT) to accommodate the 100+ brands who were presenting. Having scheduled breaks kept attendance and engagement really high, even until the very last session of the very last day!
We had backups for everything. In the event our "Mission Control Center" point person had internet issues, we had a "Second in Command" who would be able to take over from a technology perspective. Thankfully that wasn't necessary, but having it in place provided much peace of mind.
I wore a selection of Mickey/Minnie ears much of the time. Okay, that's not a true tip but it did keep the fun in our event, something for which FranServe is well known. Keeping the spirit of your organization intact, in my opinion, is a critical component of a successful virtual event!
OUR 2021 CONVENTION
As FRAN-tastic and successful as our event was, I hope we never have to do it again!! I look forward to our 2021 convention at Disney World, July 11-14, being an in-person event. Our keynote will be Catherine Monson, IFA Chair and FASTSIGNS CEO. Registration for our event opens next month, and we're already 30% sold out! Without a doubt, virtual or in-person, we know how to put on great events! If for some reason we do need to hold a virtual convention in 2021, we know we'll ace it! Bringing people together is our forté!
FINAL NOTE
A big shout out to everyone who attended our 2020 virtual convention! Our success was a culmination of everyone's participation and support. Thank you franchise brands, partners, and all the fran-tastic FranServe consultants! Special shout out to the FranServe convention team: Michele Goitiandia, Leah Volberg, Lina Heredia, Marla Hunter, Melissa Blum, Lance Graulich, Julie Goldberg, Jason Obrien, Vicktoria White, Jessica Melendez, Cindy Charette, David Craghead, Jerry Rieder, Don Clayton, and Joan Winchester.
– Alesia Visconti
Alesia Visconti, CFC, is the CEO/Publisher of Franchise Dictionary Magazine and the CEO of FranServe Inc., the world's largest franchise consulting and expansion organization. She has 20 years of experience as a C-level executive, driving organizational development and taking companies to the next level. An author, professional speaker, and entrepreneur, her motto in life is "Work hard, play hard, help others, repeat." A self-proclaimed nerd, Alesia loves all things "superhero."