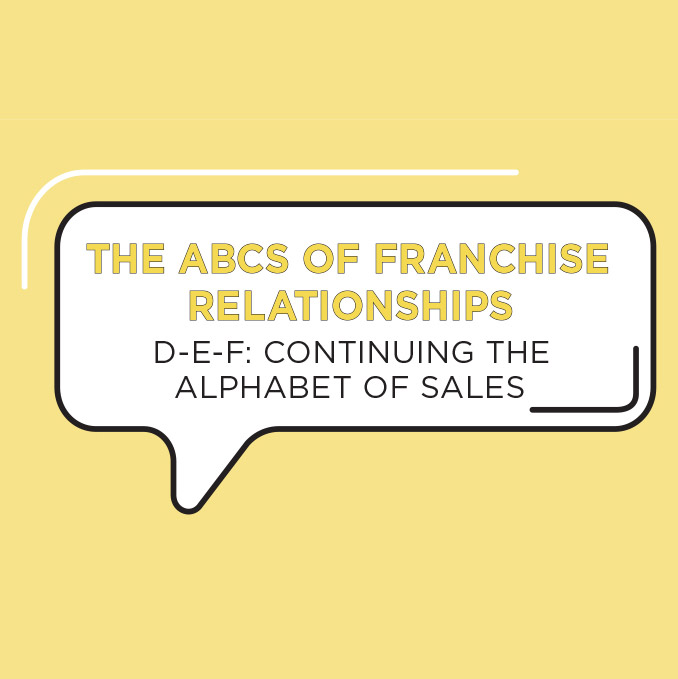 In the world of Alphabet of Sales, we find the simple and difficult. Today we are covering D, E, F. If you missed A, B, C, check the last issue of FDM By  Nancy Friedman
D-E-F: CONTINUING THE ALPHABET OF SALES
In the world of Alphabet of Sales, we find the simple and difficult. Today we are covering D, E, F. If you missed A, B, C, check the last issue of FDM.
Details. There are details in everything. The smaller they are, the more important they usually are. Overlooking details can be disastrous, dangerous and debilitating. To think or even say aloud: "It's just a small detail, don't worry about it" can be all three of those words. Take in mind every detail you can and attempt to assure yourself, your client or prospect, family member, or friend you'll 'take care of all the details.'
Echo Question. A popular way to repeat a question back to someone. Some folks call it mirroring or parroting. We like "echo." It's a common way of getting a little more information when
the person is not terribly forthcoming. Let's say Bob says, "I'm going on vacation next week." It's a nice, simple statement. You can ignore it (not a great idea) or say, "Going on vacation?" repeating or echoing the last few words and turning them into
a question rather than asking, "Where are you going?" If you
say, "Going on vacation?" (lifting your voice in a slightly upwards tone), chances are you'll get a bit more information than just asking, "Where are you going?" It works.
Focus. Focusing on the person you're talking with, either on the phone or in person, is one of the best compliments you can give someone. We cannot do two things well at once. And if you're not focusing on the person you're interacting with, count on them feeling either left out or feeling less involved. Eye contact is critical, as are your listening skills. If you are like me, an ADD, focusing is something we need to dramatically work on while doing something. It can be done.
Nancy Friedman