Nation's Leading Property Management Franchise Company Offers Expert Insight on College Rentals.

DALLAS — Real Property Management, a Neighborly® company, the nation's leading full-service property management franchise brand, understands the rental process can be daunting for college students. To make the process easier, their experts have compiled a list of essential tips to make the college rental experience more seamless.
Before starting the rental property search, it is crucial to address some of the responsibilities that come with rentals as ignoring basic upkeep tasks could cost renters their security deposits and result in potential damage to the unit. Common rental responsibilities can include replacing light bulbs and detector batteries, changing the AC filter, making sure not to flush anything down the toilet except toilet paper (you will want to own a toilet plunger, too!), using an inexpensive hair catcher over every bathtub drain, avoiding carpet spills that may lead to staining, and taking out the trash.
"Finding your first rental property is an exciting milestone, but it also comes with great responsibility," said Stacy Brown, Director of Technical Training at Real Property Management. "For first-time renters, enthusiasm can lead to making quick decisions that can result in a potentially bad renting experience."
Below are key pointers to consider in your search to find the right place for your needs and budget:
Start Early: Begin your search for a rental property at least six months before the start of the academic year. This will give you ample time to explore different options, compare prices, and negotiate a lease.
Set a Budget: Determine how much you can afford to spend on rent each month, and factor in additional expenses like utilities, parking fees, and transportation costs.
Consider Location: Choose a rental property that is located near campus or on a convenient transportation route. This will make it easier to attend classes and social events.
Check Amenities: Look for rental properties that offer amenities such as laundry facilities, fitness centers, and Wi-Fi. These features can help make your college experience more enjoyable.
Read the Lease Carefully: Before signing a lease, make sure you read and understand all the terms and conditions. Pay close attention to details such as the move-in date, rent due date, and any penalties for breaking the lease.
Consider Roommates: Living with roommates can help you save money on rent and other expenses. However, make sure you choose roommates who are responsible, reliable, and compatible with your lifestyle.
Ask for References: Before signing a lease or renting, ask the landlord or property manager for references from current or previous tenants. This can help you get a better idea of what it's like to live in a rental property.
Real Property Management provides full-service leasing, move-in, and move-out property inspections, property maintenance, management of tenant requests and emergencies, advertising and marketing, tenant screening, accounting, rent collection, legal evictions, and online reporting portals.
To learn more about Real Property Management and its services, visit www.realpropertymgt.com.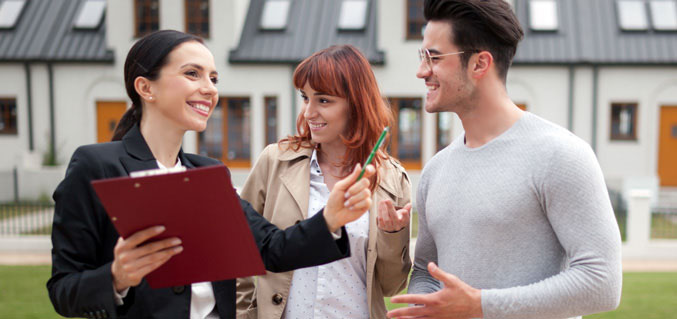 About Real Property Management:
Real Property Management, a Neighborly® company, is the largest property management franchise in North America, with more than 30 years of industry expertise providing full-service residential property management for thousands of investors and rental homeowners from more than 400 independently owned and operated locations worldwide. Acquired in 2018, Real Property Management is part of Neighborly®, the world's largest home services company with more than 30 brands and 5,000 franchises collectively serving 12 million+ customers in six countries, focused on repairing, maintaining and enhancing homes and businesses. Neighborly® brands are found at Neighborly.com. For more information about Real Property Management, visit RealPropertyMgt.com.