Mr. Rooter Plumbing launches poll on common plumbing issues; educates consumers on do's and don'ts
WACO, Texas — From backed up drains to low water pressure, the list of potential plumbing problems homeowner's deal with can be daunting. In an effort to educate consumers and provide them with tips on how to tackle these issues, Mr. Rooter Plumbing, a Neighborly company, commissioned a national survey asking homeowners about the most common plumbing issues they face.
The results of the survey, which was conducted by Google Consumer Surveys, showed that nearly 20% of homeowners frequently have to deal with a clogged toilet, while only 9% are dealing with a clogged sink. Another 15% spend time fixing backed up drains, and close to 6% of homeowners are experiencing low water pressure. Only 4% face garbage disposal issues.
"Being a homeowner is a fulfilling and rewarding accomplishment, but it can also bring new responsibilities and tasks that many aren't prepared for," said Doyle James, president of Mr. Rooter Plumbing. "This survey gave us tremendous insight as to the most common plumbing problems that homeowners deal with, along with their go-to methods for fixes. We learned that when faced with a plumbing issue, nearly 46% of homeowners research DIY tips and attempt to fix the problem themselves. That's why it's vital to educate consumers about the do's and don'ts of plumbing, so they can hopefully avoid back-ups, bursts or other potential catastrophes down the line."
To help prepare homeowners for any unforeseen disasters, Mr. Rooter is offering expert tips on how to handle some of the most common plumbing issues, including:
Clogged toilet: Do not try to flush the toilet, as this will only lead to an overflow. Find a plunger and make sure to have a good and consistent connection with the plunger and the toilet. Being quick and repetitive with the plunging motion and keeping an eye out for movement in the toilet is key to unclogging it.
Backed up drain: Use a regular wire coat hanger and straighten it out as much as possible. Bend one end to create a hook, push it through the drain and start fishing. Hair and all the buildup, aka gunk, should pull out. Once it's all pulled out, run the hot water and it should clear up.
Clogged sink: Mix 1/3 of a cup of baking soda and 1/3 of a cup of vinegar until it starts to fizz. Pour it immediately down the drain to help break down the gunk, hair and grime. Let it sit for about an hour (overnight is even better) and then flush it with hot water.
Low water pressure: Screw off the aerator, clean off the gunky residue and screw it back onto the faucet. This should help the water pressure get back to normal.
Garbage disposal: Never use chemical cleaners to clear a backed-up garbage disposal. To check for clogs, remove the unit and visually inspect the pipe for obstructions.
"Every year, millions of homeowners require the expertise and hard work of an experienced plumber. And with National Hug a Plumber Day coming up on April 25, now is the perfect time to not only highlight the importance of proper plumbing maintenance, but to also say 'thank you' to the dedicated technicians and plumbers who always show up when disastrous situations go down," continued James.
To further celebrate the holiday, Mr. Rooter is recognizing America's unsung heroes who go above and beyond the call of duty to keep our pipes – and lives – flowing smoothly. Beginning today, fans are encouraged to visit Mr. Rooter's Facebook page and share a first-hand story of how a plumber saved their day for a chance to win a smart home leak detector along with other Mr. Rooter swag. To learn more about Mr. Rooter including additional expert tips on how to tackle common plumbing issues, visit www.MrRooter.com.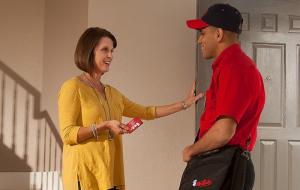 About Mr. Rooter®
Mr. Rooter®, a Neighborly company, is a full-service plumbing and drain cleaning franchise with approximately 300 franchises worldwide. Established in 1970, Mr. Rooter franchisees provide services to both residential and commercial customers. Acquired by Neighborly® in 1990, Mr. Rooter is part of a community of home service experts, leveraging Neighborly's nearly 3,500 professional home service experts across 14 brands in the U.S. and Canada with a unique direct service function that provides consumers assistance with nearly all aspects of their home care needs. Neighborly brands include: Aire Serv®, Five Star Painting®, Glass Doctor®, Portland Glass®, Molly Maid®, Mr. Appliance®, Mr. Electric®, Mr. Handyman®, Mr. Rooter®, Protect Painters®, Rainbow International®, Window Genie®, Mosquito Joe® and The Grounds Guys®. Additional information about Neighborly can be found at www.GetNeighborly.com. For more information about Mr. Rooter, visit www.MrRooter.com and to learn about franchising opportunities with all Neighborly companies, visit www.leadingtheserviceindustry.com.