Local Entrepreneur Receives Approval To Begin Build Out For One of First Newly Licensed Dispensaries in the Garden State; National U.S. Dispensary Franchisor Expands To Fourth U.S. Market.
FRANKLIN TOWNSHIP, N.J. — Unity Rd., the first true national cannabis dispensary franchise in the U.S., announced today that the brand is officially entering the Garden State. The local Unity Rd. shop owner and entrepreneur, Dishen Patel, received approval for a recreational business license from the state of New Jersey and the municipality of Franklin Township in Somerset County to open and operate a new cannabis business.
This approval is among the first recreational business licenses the state has awarded outside of existing medicinal cannabis businesses that were converted after the recreational sale of cannabis was legalized by the state. The Franklin Township Unity Rd. is expected to open in the first half of 2023.
Patel has spent the past decade in private equity investing in consumer-driven brands, including several restaurant concepts that utilize a franchise business model. He has also previously acquired brands and transitioned them into franchise companies.
"I was seeking next-generation business opportunities in hypergrowth industries in which I had a passion," Patel said, recognizing that the $28 billion U.S. cannabis market is on track to reach $46 billion by 2026. "I know how to run a retail business, but the cannabis space is layered with complexities. I needed a direct route to alleviate barriers to entry and set myself up for success, while confidently making decisions."
The Company signed a licensing agreement with Patel as a vendor contractor, stating that it will provide him with consulting services across real estate, licensing, compliance, operations, product procurement and marketing, among others.
Patel continued, "With the Unity Rd. team guiding me at every step, I am able to yield their expertise to operate and grow my future dispensary, while keeping my attention focused on what matters most – providing my neighbors with a trusted local cannabis source they can rely on in the New Jersey community."
While New Jersey's Medicinal Cannabis Program has been live since 2012, legal recreational cannabis sales in the state launched on April 21, 2022, nearly totaling $1.9 million the first day. In the initial ten weeks, the market quickly hit $80 million in legal sales and reached $4.6 million in tax revenue, according to New Jersey's Cannabis Regulatory Commission.
"Unity Rd. strives to empower entrepreneurs who understand the intricacies that come with cannabis but also believe in the potential benefits and growth opportunities that the space brings to the table," said CEO of Unity Rd., Mike Weinberger. "Being able to enter the market with a devoted local entrepreneur such as Dishen, who understands the inner workings of the business model, will streamline the process of operating a compliant and successful cannabis business, while positively impacting the community.
Patel joins three additional entrepreneurial groups that have signed agreements with the Company to develop Unity Rd. shops across New Jersey and are currently in various stages of development.
Weinberger added, "As the market for legal cannabis continues to grow, aspiring entrepreneurs are witnessing the birth of an entirely new industry filled with incredible opportunities, but the chance to get in early will not last forever."
Cannabis is a highly regulated industry with laws that differ from state-to-state and change day-by-day. These market conditions make it next-to-impossible for industry newcomers to enter – let alone operate a successful business. Unity Rd. breaks down these barriers, helping independent business owners bring the benefits of the growing industry to their hometown to strengthen their communities, invest in local programs and build a legacy.
To learn more about the Unity Rd. franchise opportunity, contact franchise@unityrd.com, call 720-923-5262 or visit unityrd.com.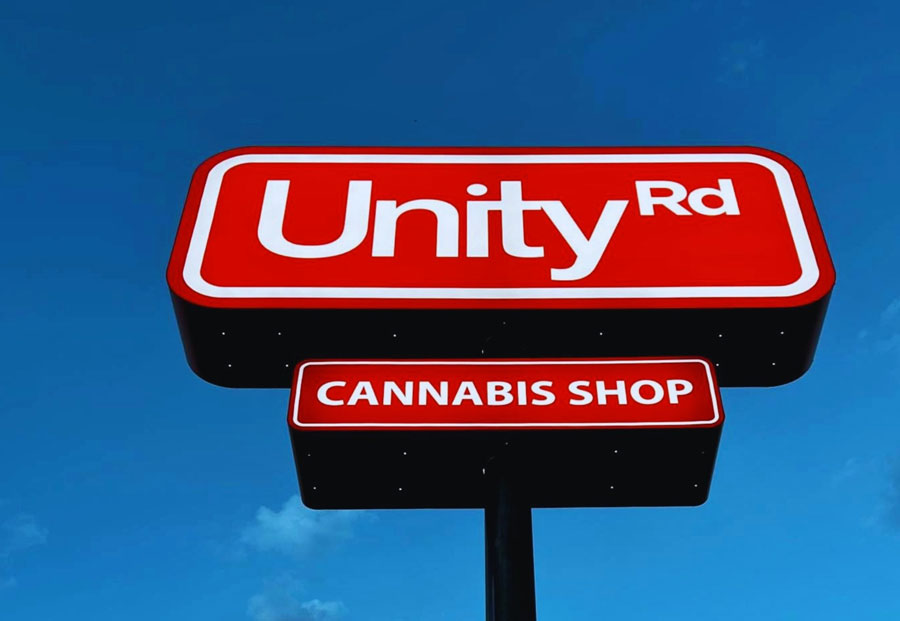 ABOUT UNITY RD.: 
Unity Rd., the cannabis dispensary franchise from Item 9 Labs Corp., is bridging the two previously disconnected worlds of cannabis and franchising. The industry trailblazer is the first to bring the cannabis dispensary franchise model to the United States—with duality of prowess in both industries to back it up. Built up from a collective 200 years in the legal cannabis industry and franchising, the company helps eager operators enter the complex industry with ease. The marijuana franchise pioneer offers its partners the knowledge, resources and ongoing support needed to compliantly and successfully operate a dispensary. Launched in 2018, Unity Rd. has four shops open across the U.S. along with multiple agreements signed with 20 entrepreneurial groups who are developing the brand in 10-plus states. In 2021, Unity Rd. became the first member of its kind to join the International Franchise Association (IFA), solidifying its position as the first true cannabis dispensary franchise in the U.S. The franchise was also named one of the "Best Cannabis Companies to Work For" in the dispensary category for Cannabis Business Times' 2022 and 2020 lists. For more information, visit unityrd.com.