ANN ARBOR, Mich. — HOODZ International, North America's largest and most reputable commercial kitchen exhaust hood cleaning provider, was recently ranked in Entrepreneur magazine's Franchise 500®, the world's first, best and most comprehensive franchise ranking. Recognized as an invaluable resource for potential franchisees, the Franchise 500® ranked HOODZ International in the Top 100 Franchises for Less Than $150,000 in 2019.
Recognized for its outstanding performance in areas including unit growth, financial strength and stability, and brand power, HOODZ International has established itself as a leading provider of kitchen equipment cleaning and preventive maintenance. Owned by BELFOR Franchise Group, a multi-concept franchise system of BELFOR Property Restoration, HOODZ International is the first international brand in the industry to be backed by leading service-based franchisors.
"As a passionate franchisor, being recognized in the 40th annual Franchise 500® Top 100 Franchises category is an incredible honor," said Keith Turner, President of HOODZ International. "At HOODZ, our franchisees are the backbone of the company. Without them, we would not be able to provide the high-quality restoration services that our customers around the world know and love."
Placement in the Franchise 500® is a highly sought-after honor in the franchise industry as evidenced by the fact that Entrepreneur received more than 1,000 applications this year, making it one of the company's most competitive rankings ever. The key factors that go into the evaluation include costs and fees, size and growth, support, brand strength, and financial strength and stability. Each franchise is given a cumulative score based on an analysis of more than 150 data points, and the 500 franchises with the highest cumulative scores become the Franchise 500® in ranking order.
Over its 40 years in existence, the Franchise 500® has become both a dominant competitive measure for franchisors and a primary research tool for potential franchisees. HOODZ International's position on the ranking is a testament to its strength as a franchise opportunity.
To view HOODZ International in the full ranking, visit https://www.entrepreneur.com/article/332363. Results can also be seen in the March 2019 issue of Entrepreneur. For more information or to contact HOODZ International, please visit https://www.hoodzinternational.com/ or call (888) 514-6639.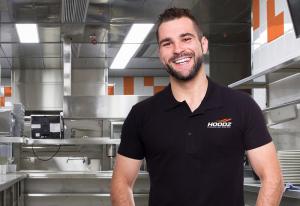 About HOODZ International
HOODZ International is North America's largest and most reputable commercial kitchen exhaust hood cleaning provider. Since HOODZ began franchising in 2009, it became one of the fastest growing franchises and has more than 120 territories nationwide. HOODZ ensures your commercial kitchen operations are in compliance whether you need a general assessment, oven cleaning, or a complete hood exhaust system cleaning. HOODZ have the experienced staff to do the job the right way, the first time and every time. With trained and certified professionals, HOODZ adheres to the National Fire Protection Association (NFPA) Standard-96 which is devoted exclusively to ventilation control and fire protection of commercial cooking operations. For more information, visit www.hoodzinternational.com.