Signage, Graphics and Print Communications Drive Back to Business Strategies.
PLYMOUTH, Mich. — As more in-person businesses across North America plan or begin to reopen, Alliance Franchise Brands LLC and its family of marketing, print, sign and graphics brands (Allegra Marketing Print Mail, Image360, KKP, Signs By Tomorrow, Signs Now, Insty-Prints and American Speedy Printing Centers) are at the forefront of guiding business owners to navigate their new normal with health and safety solutions and resources.
Independently owned and operated franchise locations are working directly with local businesses to outfit their physical space, prepare employees, and get ready for the return of customers and visitors with safety signs, social distancing graphics, sneeze guards and shields, outdoor promotional banners and more.  
"Companies of all sizes are eager to get back to business and want to do it safely, being mindful of government regulations that may be federal and local," said Alliance Franchise Brands CEO Mike Marcantonio.
"Our franchise members have always been strong partners in their business communities," he continued. "Medical practices, retail stores, financial institutions, office buildings and restaurants are just a few of the business settings that need to reassure their customers and visitors with health and safety policies that are visible, primarily through signs and large graphics."
Image360 franchise owner Jon Osborne, based in Mokena, Ill., concurs. "Businesses come to us because they may not know the most professional way to leverage visual communications as they reopen. For example, some well-intentioned DIY solutions, like using regular tape to hold down floor graphics, can result in peeling which creates a tripping hazard and attracts bacteria. That's why we have packaged some materials, based on common business needs, and do custom packages, too. All can be professionally installed."
Perry Clark, franchise owner of Allegra Marketing Print Mail in Winston-Salem, N.C, has used the time as an essential business to support clients throughout their mandated closures. "We did our best to go above and beyond to help keep our local business community running, like offering free banners and signs to local restaurants and producing PPE. Because of that consistency in a time of crisis, our clients know they can trust us and that we'll continue to guide them as they reopen."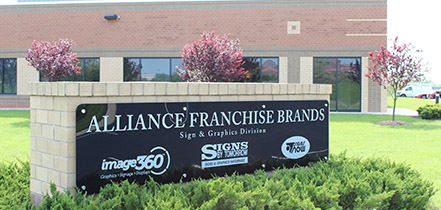 About Alliance Franchise Brands
Alliance Franchise Brands LLC and its subsidiary, KK Printing Canada ULC, are the franchisors of more than 600 locations in North America operating the company's brands: Allegra Marketing Print Mail, Image360, Signs Now, Signs By Tomorrow, KKP, Insty-Prints, American Speedy Printing Centers and RSVP.
Independently owned and operated franchises provide national, regional and local businesses and organizations with a one-stop resource for technologically advanced solutions for their printing, marketing and graphics communications. For more information, visit https://alliancefranchisebrands.com/. For franchise offerings, visit https://allegrafranchise.com/ or https://image360franchise.com/.