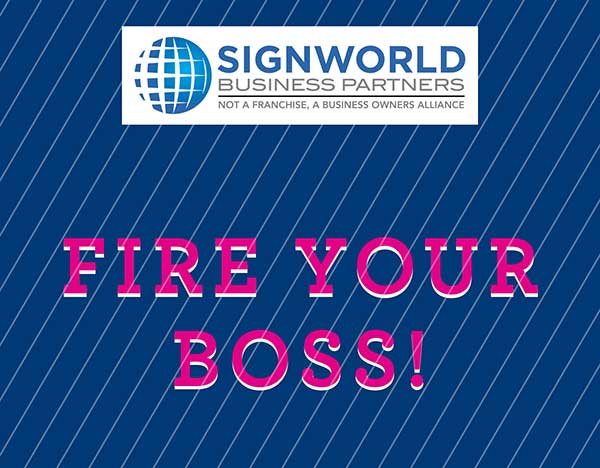 Signworld offers an independent, B2B, royalty-free business model. By Nancy E. Williams
No Rules
Signworld offers an independent, B2B, royalty-free business model
For over 30 years, Signworld has been a national organization with more than 240 independently owned companies that provide custom commercial signage and graphics. Signworld differs from other sign and graphics businesses in four major ways:
No rules!: Signworld offers owners complete autonomy.
No royalties: Owners keep more of their profits.
Business-to-business model: Enables work-life balance.
Career employees: Limits turnover. Stable work environment.
The Signworld business alliance seeks hardworking and coachable entrepreneurs. That means no prior experience in sign-making, sales, marketing and business management is required. As long as you have the right attitude, are people-oriented, and can finance the business, Signworld's training, support and proven business model will take care of the rest.
And what is "the rest"? Signworld's training and support rival most big brands. Its pre-opening curriculum includes technical training in hardware and software, operations training, sign-making and installation training, supplier training, point-of-sale training, on-the-job training at active Signworld partners' locations, and on-site training once your equipment is set up.
Support doesn't end once the business opens. Signworld business partners receive ongoing support and coaching from corporate staff as well as fellow owners for as long as they're in business. This includes next-day, on-site service, online technical support, and an annual three-day convention that offers more than 30 cutting-edge business seminars, all of them updated every year.
Because the Signworld business model is B2B, the goal is for owners to work with ongoing large customers with a repetitive need. This means that a core group of 30 or fewer customers will generate up to 80% of an owner's annual income. And some Signworld partners make 50% or more of their sales through their websites alone.
For a $210,000 investment, Signworld offers a business that gives owners complete control, not bound by rules or strict business processes and without any royalties. So go ahead, fire your boss, and start your own Signworld company!
– Nancy E. Williams
To learn more, visit www.signworld.com