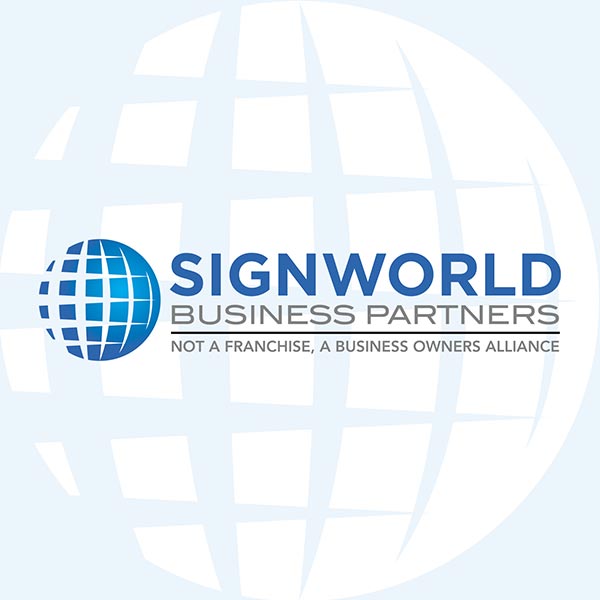 Don't have any experience in graphic design, printing, or signs? You don't need to. Signworld looks for candidates who have an entrepreneurial spirit. By Nancy E. Williams
Signworld's B2B business model continues to attract aspiring entrepreneurs looking for complete control, without rules or strict business processes, or royalties. In 2019, Signworld added 32 new operators to the network. Jack Werner, President, attributes this to the continual enhancement of their training program, but mainly the same characteristics that have attracted potential owners for the last 32 years. "Not having to pay royalties over the lifetime of a business is a significant draw for our owners," Jack expressed. "We have operators that have been with us the entire 32 years and never paid a single dime in royalties."
Signworld anticipates sustained growth in 2020, as the industry growth trajectory continues. From interior store walls and windows, to exterior overhead signage, vehicle wraps, and tradeshows, the opportunity for building a business in the sign industry is all-around. "There are more signs today than there were yesterday, and there will be more signs tomorrow" quipped Jack. Indeed, the industry is projected to reach a value of $46.7 Million by 2024, as businesses have a greater desire to differentiate and personalize their business. Signworld owners mainly work with a core group of 30 customers or less who generate up to 80% of an owner's annual income, so they do no compete with the traditional graphic and printing businesses that cater to consumers.
But you may be thinking: "I don't have any experience in graphic design, printing, or signs." You don't need to. Signworld looks for candidates who have an entrepreneurial spirit – the desire to be in control and make decisions. You'll also need to have strong project management or operational skills, as the number of moving parts (customers, employees, projects, etc.) in a business like this will require such. Lastly, you will need to be comfortable networking and building relationships, as this is critical in building your business.
If you are an aspiring entrepreneur looking for an industry with growth potential, that offers the support and buying power of a traditional franchise but the freedom of an independent business, without paying royalties, go to https://signworld.org or call 888-765-7446 to learn more.
– Nancy E. Williams