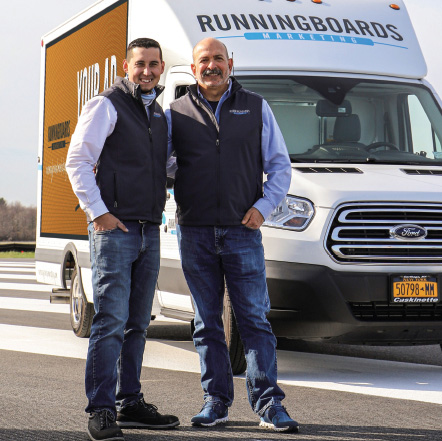 In the franchise world, Runningboards Marketing (RBM) hasn't been around as long as McDonald's or 7-Eleven. After launching in 2018, the brand's leadership quickly realized it had a special model that was perfect for franchising, and it did just that one year later. By Nancy E. Williams
Reason No. 1:
"You're an emerging brand!"
In the franchise world, Runningboards Marketing (RBM) hasn't been around as long as McDonald's or 7-Eleven. After launching in 2018, the brand's leadership quickly realized it had a special model that was perfect for franchising, and it did just that one year later.
"We get it; there's a certain level of risk that comes in working with an emerging brand," said Jason Clement, chief creative officer.
However, Clement explained the security the brand offers through experience. "Our CEO, Calvin McNeely, is a veteran entrepreneur with an excellent track record. He has personally and successfully owned and operated over 30 businesses around the world, from startups to acquisitions," said Clement. "The franchisees that join RBM early get to grow strong roots in their communities and be the leaders in their market."
Reason No. 2:
"You sell scary, long-term subscription advertising!"
Subscription services can be off-putting to some. They lock you into long-term agreements that are difficult to cancel and usually come with a penalty clause. According to Clement: "The good news is, that's not us, and we think there are some compelling reasons to offer a subscription model. Unlike a service-based business, where an owner must capture a new customer repeatedly, our advertising clients are on a monthly subscription. This helps alleviate some of the revenue uncertainty within a business and allows for long-term revenue projections. That's really exciting!"
Reason No. 3:
"Your digital advertising vehicle (DAV®) is complex!"
You don't need to be a technical or computer expert. "Here's a little secret: Our CEO didn't really like technology. If Calvin can do it, so can you. You don't need to be tech-savvy prior to joining this business. We'll teach you everything you need to know about operating DAV. Although DAV might be complex in design, he's simple to operate. Our innovative, proprietary software, RBM Velocity, assists franchisees with the management of their day-to-day operations, including revenue reporting and ad scheduling. You can call us 24/7 on our dedicated support line if you ever need assistance," said Clement.
Nancy E. Williams
CONTACT: runningboardsmarketing.com