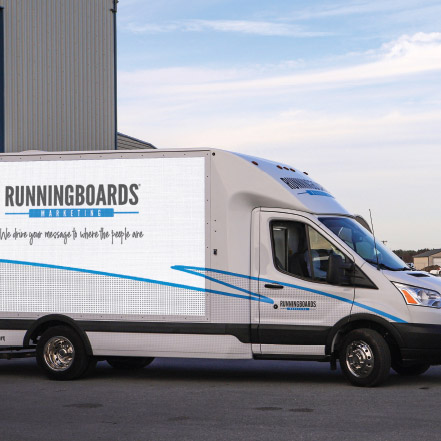 Christopher Page, director of business development for Runningboards Marketing, described the digital-mobile marketing brand in his own words. He said: "Our company gives businesses a unique way to get noticed, driving their message to where people are, and getting ahead of the competition." By Nancy E. Williams
Christopher Page, director of business development for Runningboards Marketing, described the digital-mobile marketing brand in his own words. He said: "Our company gives businesses a unique way to get noticed, driving their message to where people are, and getting ahead of the competition."
Essentially, Runningboards Marketing (RBM) gives businesses a way to stand out in all the advertising noise. RBM delivers this service with mobile ads that are customizable and trackable on its digital advertising vehicle (DAV).
So how do owners make money? "The bulk of a Runningboards Marketing owner's income is generated by recurring subscription revenue," said Page.
"That's the real exciting part. Unlike a service-based business, where an owner must work hard to capture a customer repeatedly, our clients are on a twelve-month subscription basis. This takes away some of the uncertainty that comes with doing business. You can leverage what you know your revenues look like for the entire year. Projections are important, and it's exciting for an owner to see this," he said.
Runningboards Marketing is a B2B business that targets customers who understand how important branding is and why it needs to be clear and effective to grab the consumer's attention. "The consistent messaging over time helps build brand awareness and recognition, elevating their relevance in the community," Page said, as he explained the win-win relationship the marketing strategy builds for owners and clients.
And community is very important to the RBM brand. "We consider ourselves a community-based business. We're looking for owners who have ties to the community. This is where the second and third revenue streams really have an impact. An owner must be in tune with local events and make those connections with key decision-makers. Events – such as professional sports, NCAA Division 1 college games and such – have specific target demographics that businesses want to reach," Page said. The same goes for other events that offer prime opportunities for advertising, such as parades, concerts, fairs and community outreach campaigns by hospitals, the city and the county. "Lastly, our owners can also offer one-time special-event messaging using DAV. Birthdays, anniversaries, weddings, proposals, graduations and even gender reveal parties. We consider these 'icing on the cake' for owners to add on top of the subscription services."
Concerned that you have no marketing or sale experience? No problem! RBM offers an extensive six-week, self-paced training that covers marketing and sales 101 as well as all financial operations to assist with your day-to-day business.
The six-week training is followed by a week of hands-on training at the corporate office in Watertown, New York, and three to four days of on-site training in the new owner's market. "Even after all of that, we continue to provide ongoing support through phone calls and, of course, with our amazing support staff," said Page.
If the idea of owning a Runningboards Marketing franchise excites you, now is the time to act. Page said: "Our goal is to have a total of 40 franchise owners by the end of 2022. All of our DAVs are Ford vehicles, as this allows us to keep our branding identical from market to market. We have an allotment of 25 trucks for this year, which must be allocated between new owners and existing owners looking to expand. If interested owners wait to act later in the year, the opportunity may not be available."
Nancy E. Williams
Contact: rbm-franchise.com