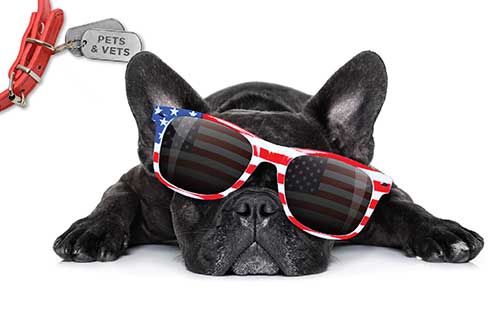 Pets and vets, two areas of great opportunity within the franchise industry. By Dawn Abbamondi
When people want to invest in a business, they can be overwhelmed by the thousands of brands available. This issue of Franchise Dictionary Magazine takes a close look at pets and vets, two areas of great opportunity within the franchise industry.
If you served in the military or have a passion for pets, or both, your background and interests represent a starting part for winnowing your brand choices. Try this approach: Make a list of the things you love to do. Next, write down what you do well. Then study where the lists overlap and do your research to learn which brands encompass both.
VETERANS
You may want to look into businesses that have veterans in leadership positions, have vet-friendly policies or a focus on military retirees. Your military experiences, the way you learn and how you perform best are likely to give you a leg up on success. These businesses might offer discounted initial franchise fees or have access to third-party lenders familiar with veterans.
I do want to caution you, though, that your military background doesn't mean you should choose a franchise that focuses solely on veterans. Many brands would love to have you as a franchisee, so regardless of whether they offer a discount to veterans, they are worthy of consideration.
PET LOVERS
If you've got a fur baby or other animal companion in your household, you might consider a brand that centers on pet products, services or that solves problems for pet owners. You could open a dog hotel, bird-enthusiast store or pet-walking service. A pet-centric business might make going to work a lot more fun, especially if you can bring your pet with you.
Then again, even if you don't have a pet, you shouldn't rule out a brand that supports pet owners. It's an industry with strong growth and one that will probably stay hot for years to come. Pet-related franchises might be a good starting point in your research, but they aren't for everyone.
OTHER CONSIDERATIONS
Your chosen brand should use your strengths and support your weaknesses. The franchisor should walk with you through the process from training to opening, staying with you every step of the way, and continuing to coach and mentor you in the business long after your launch.
When you embark on this venture, it is important to find a brand that fits your core values. Be sure to leverage the support of a franchise brand to help you step out of your comfort zone into something that will make you happy and help you live your dreams.
– Dawn Abbamondi
Dawn Abbamondi, Director of Brand Development & Marketing at SMB Franchise Advisors, has over 20 years of extensive franchising experience in the coffee, food, convenience, gift and floral industries. Dawn leads the areas of marketing, social media, public relations, web development and lead generation. Contact her at 215-370-7998 or Dawn@SMBFranchising.com. Visit www.SMBFranchising.com.