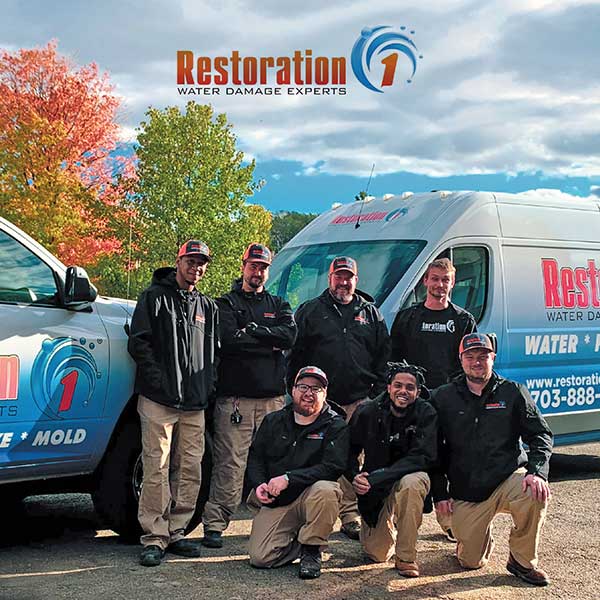 Restoration 1 franchisee works on structures harmed by water, fire, smoke and mold, By Deanna Pledge
Damage Control
Restoration 1 franchisee works on structures harmed by water, fire, smoke and mold
Cory Graves has always liked hands-on work and helping others, and after retiring from the military, he wanted to have more family time. Restoration 1 suited those career criteria beautifully. Two years ago, he opened his Springfield, Virginia, franchise after completing training and certification in compliance with international standards for water, fire, smoke and mold remediation.
As a newbie, Graves was impressed by Restoration 1's knowledgeable field representatives, who were readily available to answer his questions, as well as the strong network of other franchise owners who can help out. "They're very supportive. It is not competitive. Support is kind of informal." Graves also appreciates that the franchise assists with advertising and has nationwide accounts such as Rite Aid® that send him referrals.
Graves considers his military background "an asset to running a successful business and networking with former soldiers and employers. Veteran-owned businesses are strongly supporting in my area. I try to hire vets and offer them opportunities, too." He handles the accounting, logistics, marketing, customer service, phones calls and dispatch. A project manager goes to all job sites and completes estimates before crews get to work.
"I've done hundreds of restoration jobs now, so there are no surprises. It's all become second nature," he says. "I love keeping things going and keeping the ship righted. It's great to see staff grow and get pumped up when they get it right." The unexpected nature of the business can be a challenge, he concedes, so franchisees have to be ready for that. "I woke up on July 8 to flash floods in Alexandria. We were drying houses out nonstop."
Graves emphasizes that Restoration 1's great reputation is a huge asset for him and for new franchisees. "Customers seek us out. The brand is growing locally and definitely out in the community now. We need people who are customer-oriented and service-oriented. With our great reputation, we are becoming one of the top restoration companies in the area."
– Deanna Pledge
For more information, please visit the website https://www.restoration1franchise.com.