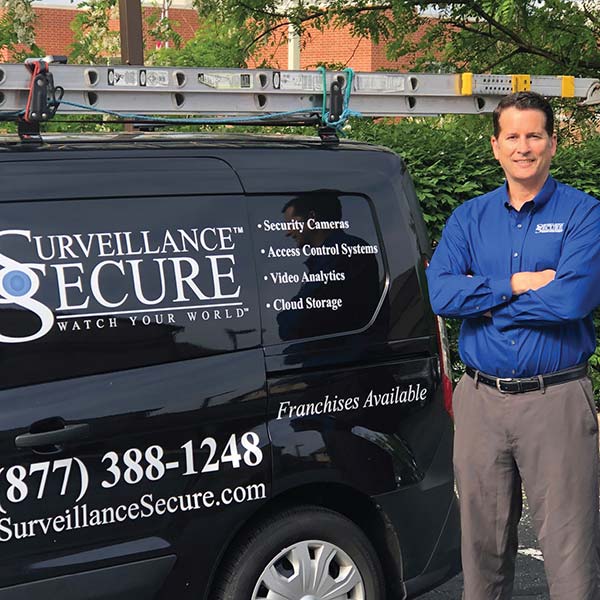 Surveillance Secure services the electronic security needs of commercial, retail, education and government clients. By Nancy E. Williams
Did you know that the revenue of the security services industry generates over $35 billion dollars in the United States?
Well, if that's a surprise and you would like to learn how you can have a share of that pie, keep reading. Surveillance Secure services the electronic security needs of commercial, retail, education and government clients for security cameras, access control systems, alarm and video monitoring solutions, and video image analytic software. The company has been a security industry leader since 2006 and began franchising in 2019. According to Rob Gazzola, Vice President of Marketing and Franchise Development, franchising was the next logical step to address the vast security needs of businesses nationwide.
"The industry trend line shows that the Commercial Security sector will continue to grow as a result of strong demand, new technology and cloud storage, and our franchisees benefit from strong recurring revenue."
All of which, Surveillance Secure provides to customers. "We talk to candidates every day about how they can build a strong book of recurring revenue with a Surveillance Secure business," shared Rob.
Offering the opportunity for recurring revenues in a growth sector is just the start. Surveillance Secure also carves out large, protected territories for owners. Some territories have populations in the millions. In the event that an owner is contacted by a potential client outside of their territory, Surveillance Secure will partner with other owners in the network as well as local expert resources in the field to ensure that the client's needs are addressed. Lastly, bulk purchasing of equipment benefits Surveillance Secure franchisees by cutting costs to their bottom line.
Surveillance Secure also provides owners with a full back-end support system. In many businesses, as owners on-board new clients, customer service can become more challenging. However, Surveillance Secure owners have a centralized Customer Support and IT center behind them that manage customer issues with ease. Because security systems are being monitored through the network, 40-45% of customer requests can be addressed by the remote support team. The peace of mind knowing that customers are being taken care of, allows franchisees to spend more time growing their business and nurturing client relationships.
With Surveillance Secure, owners get what took the corporate team 10 years to build – on day one! To learn more, call 877-405-4997 today, or you can request franchise information through the online portal at: https://surveillancesecurefranchise.com.
– Nancy E. Williams