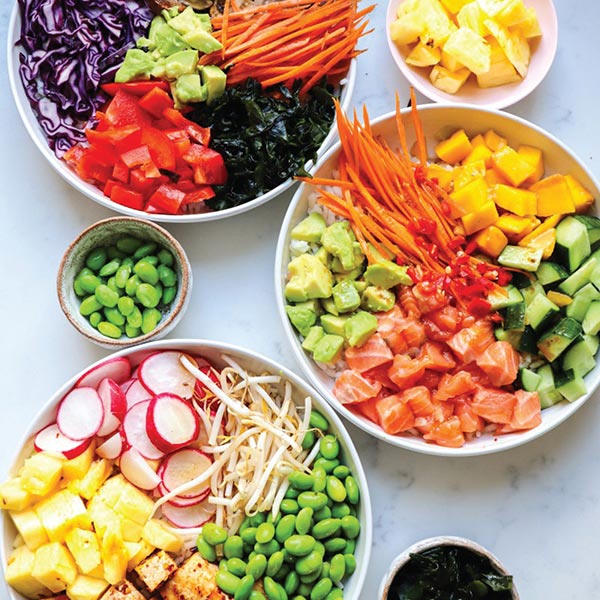 With 76 locations and growing, Poké Bar is the Poké brand leader in the United States, Canada, and New Zealand. By Mark Schnurman

As the world becomes greener and more health-conscious, Poké Bar continues to distinguish itself. With 76 locations and growing, Poké Bar is the Poké brand leader in the United States, Canada, and New Zealand. In addition, they are in talks to expand to Brazil, Asia, and Mexico. What are the keys to their success? According to Renee Li, corporate coordinator, there are several key drivers to their success.
It starts with the quality of the product. Poké Bar uses only the best ingredients – they sell fresh fish, premium sauces and fresh vegetables. Their unique mix of traditional sushi and Hawaiian-style poke creates must-have delicious and healthy meals.
The Poké Bar menu also offers boba tea, also known as bubble tea, to go along with their fresh dishes. Their sister brand Tea Cup is the brand of boba tea provided. The cobranding allows an expansion of their menu while staying true to their health-conscious vision.
Poké Bar's commitment to healthy eating and the environment goes beyond their menu. Already an industry-low waste producer, they use corn-derived utensils and biodegradable bowls and they're constantly endeavoring to reduce further. This benefits not only the environment but franchisee margins.
Poké Bar is committed to maintaining a family-like atmosphere even as they continue to grow. Everyone in the corporate office knows all the franchisees by name and they are dedicated to each other's success. Many Poké Bar locations are owner operated. Owners working in the stores or covering shifts occasionally, is a great way to truly understand the ins and outs of the business and provides valuable operational insights.
Poké Bar fosters franchisee creativity and allows menu and experience customization. Creative self-promotion and marketing are encouraged and shared companywide. Poké Bar's culture of sharing allows for innovation and business building.
Poké Bar CEO Yoon Ju said, "As 2019 draws to an end, we at Poke Bar are excited for the upcoming year. Our main focus in 2020 will be elevating the brand and welcoming new franchisees to join our Poké Bar family."
Poké Bar offers a low entry cost, a great operating system, and a track record of success. Poké Bar has franchise opportunities available across the U.S. as well internationally.
For more information about franchising opportunities, visit: https://www.ilovepokebar.com/franchising.
– Mark Schnurman