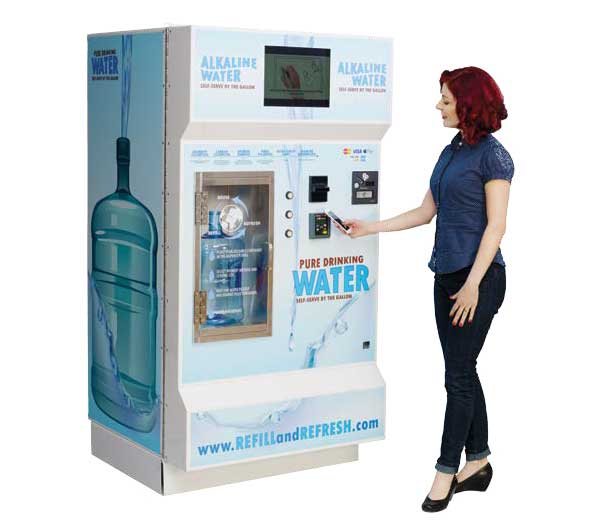 Dick Humphrey discusses the rewards involved with WaterStation technology.
A Planet Friendly, Profit-sharing Combo
Dick Humphrey discusses the rewards involved with WaterStation technology
What sets WaterStation Technology apart from its competitors?
WaterStation Technology designs and manufactures bottleless water stations that are planet friendly and human healthy. Based in the Greater Seattle area, we stand at the forefront of water purification and filtration. We have developed groundbreaking self-serve purification systems that produce premium mineral water that is not only more affordable than most bottled water, but also much more ecologically responsible. Our patent-pending technologies include the only single-serve vending machine that can create virtual spring water through a natural mineralization process. We can deliver alkaline mineral water in a single-serve portion that allows the consumer to fill their favorite reusable cup or sports bottle. Our vending machine models feature state-of-the art technology to support business operations, such as real-time remote monitoring of cash and credit card sales.
What type of investor would be a good fit for WaterStation Technology?
WaterStation Technology is a business, not a franchise. Therefore, an investor who would be a good fit for our company is anybody who could benefit from a totally passive turnkey investment model that allows an investor to carry out other activities. It is perfect for anyone seeking to diversify their financial portfolio. Our current investors are receiving an average 18 to 20 percent return on their investment of overall average revenue on or before 12 months from business startup, so that is another aspect that prospective investors find very attractive.
How is the company environmentally-friendly?
We design bottleless water stations that provide purified water, so our technologies use no single-use plastic water bottles. Water drinkers can simply fill up using the reusable containers, which contributes to reducing pollution and cutting recycling costs. Speaking of costs, our water is also more economical for the consumer than bottled water as it costs less than a single water bottle sold at retail price.
What long-term benefits does your business model offer to investors?
What really distinguishes WaterStation Technology is our profit-sharing business model. There is also flexibility as investors can opt for a total passive or active investment. We also can offer investors up to five revenue streams, since our machines not only offer alkalized water, but also additional opportunities to generate advertising revenue from billboard and LCD features on our machines. In addition, we offer our investors equipment obsolescence protection for the term of the agreement, so they can feel secure knowing that machines can be upgraded without risk as our growing technologies evolve.
What are the advantages of water versus bottled water?
While WaterStation Technology makes no claims regarding health benefits of water produced by our technology, there has been extensive research published highlighting the health benefits of alkaline water. Our patent-pending filtration process eliminates unwanted chemicals in drinking water that could be hazardous to our health. The bottled water market is an $11 billion industry, and alkalized water products make up a key segment of that market.
For more information about business opportunities with WaterStation Technology, visit dhumphrey@waterstationtechnology.com or call Toll-free 877-941-0002.