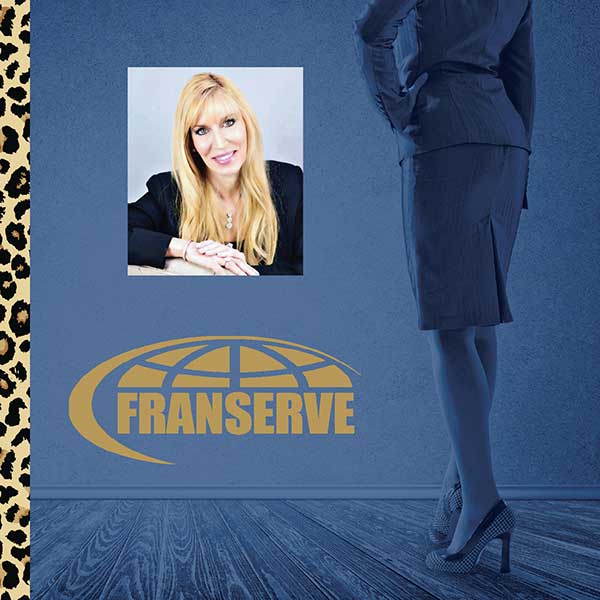 Alesia Visconti and her team of franchise consultants help people take control of their future and become entrepreneurs and business owners. By Rose Mango
On a Mission to Help
If you dread going to work on Monday mornings, you are not alone. A recent Gallup Poll showed a whopping 85% of people say they hate their jobs. Alesia Visconti, CEO of FranServe, agrees, and she ought to know: She used to be in the careers industry and her firm helped tens of thousands of people through the despised process of job search. "It's sad to see how much corporate America has declined," says Visconti. "It just doesn't care about people anymore."
Visconti wanted to find something better for her former company's clients, and that she did – the world of franchise ownership. Her team of franchise consultants helps people take control of their future and become entrepreneurs and business owners. In this way, people get to be their own boss – and they love that! The franchise industry's motto is "be in business for yourself, but not by yourself."
Helping people discover which franchise brand is the perfect fit for them is the mission of FranServe's franchise consultants. And those consultants' services are provided at no cost to the people they help.
Visconti began as a franchise consultant with FranServe, and she was immediately smitten. In a short period of time, her background as a C-level executive led to her becoming the company's president and then the CEO. Visconti's passion was, and still is, palpable. It, along with her vision, is what has fueled the company's exponential growth.
Today Alesia Visconti is the CEO of the world's largest franchise and expansion organization, FranServe Inc.
Visconti says that "franchising itself is a game changer because it allows people to step into business ownership quickly and successfully, and with support. Each step along the way is explained so people can enter business ownership without the stress of going it alone."
When asked to expand on why franchise ownership is such a game changer for people, she answers, "Steady support makes franchise ownership a winner for entrepreneurs. The brand is established and has a proven system in place that allows you to step in and take off. The sky is the limit when a solid foundation is already laid for you."
One key reason franchising is on fire is its affordability. Many service brands avoid brick-and-mortar expenses, so they're especially appealing because of low entry fees and low overhead – and they're significant contributors to the surge in franchise business ownership. Although the root of franchising is in food, the industry now has 80-plus categories that present a plethora of choices from pets to fitness to beauty to automobile services.
No matter your age, sex or education level, there has never been a better time to enter the franchise industry. And if franchise ownership isn't for you but you are drawn to the industry, you can become a FranServe franchise consultant, a career path that's in great demand due to the growth of the franchise industry.
A burning desire to help people is what drives Visconti to keep growing FranServe. "We change people's lives!" she says with heart-felt enthusiasm.
She also invests time supporting and protecting the industry she loves. Through working with the International Franchise Association, she spends time on Capitol Hill to speak with lawmakers regarding rulings that impact the industry.
When you add it all up, you can see why FranServe – and Alesia Visconti at its helm – is indeed a game changer.
– Rose Mango
Alesia Visconti has 20-plus years helping others find their career bliss. She is the CEO of FranServe Inc, the world's largest franchise consulting and expansion organization. Her motto in life is "work hard, play hard, help others, repeat." She and her expert team of franchise consultants are passionate about helping others achieve their dreams of business ownership through franchising. Alesia is a self-proclaimed nerd and loves all things "superhero." For more information visit www.franserve.com.