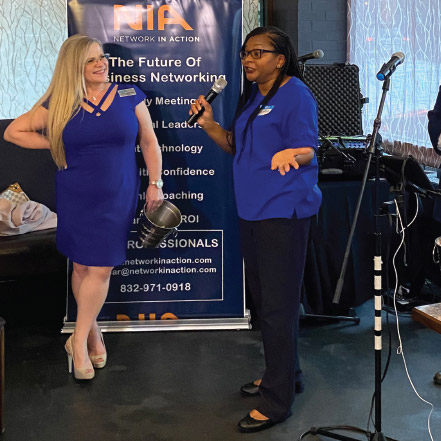 Network In Action (NIA) connects business experts with a common interest: to use their specific skills to help local businesses grow and the community around them thrive. By Elice Morgenson
Network In Action (NIA) connects business experts with a common interest: to use their specific skills to help local businesses grow and the community around them thrive.
Scott Talley, founder of Network In Action said: "Each day, a business owner has the opportunity to impact the lives of other business owners in their community. We have two Navy SEALs that bought our franchise because it aligns with what they want to do with their life now that they are retired from the military. From a personal aspect, what I hear from our franchisees is how personally rewarding it is to be involved with the success of other members and their community."
Every eight days in the U.S., something positive is being done by an NIA franchise owner and their members. Members have the unique opportunity to use their time and expertise to participate in a community service initiative that is close to their hearts. The projects cover an unlimited range of volunteer efforts and organizations, including environmental tasks, veteran-support organizations, domestic violence support, help for members of the community who are in need, and even assistance wrapping presents for a local charity.
Talley and the members of his group in Houston, Texas, are currently organizing a fund to bring donations to people who were affected by Hurricane Ida in Louisiana. "We were discussing a charity to get behind after the disaster," Talley said. "After talking about it, we all agreed that we had items that we could all get together and donate, so we are loading it all up and driving it ourselves three and half hours down to Louisiana."
In addition to the monthly community support it offers, one of the NIA franchise groups has chosen  Childproof America, an organization in Houston, Texas, to be the ministry of the year. Childproof America provides educational tools and services for families to help prevent the exploitation and trafficking of children. Kelly Litvak, director of Childproof America, said: "Childproof America is honored to be selected as ministry of the year through an NIA franchise. This invaluable support allows us to expand our reach, through prevention education and crisis support to families impacted by the cycle of grooming through exploitation. ChildproofAmerica.org is so appreciative of the help the Network In Action franchise provides."
Franchisees with a servant's heart will flourish in the NIA environment. Meetings do not operate with a transaction-based mentality. Instead, members provide genuine benefits to each other that exceed their expectations. For a modest initial investment of $40,000, a group leader can establish up to three NIA groups in a specific area, and NIA demonstrates one of the highest rates of return on that investment as reported in its Item 19 franchise disclosure documents.
Founder Scott Talley and his wife, Moriah, have long dreamed of developing their networking groups into an increasingly influential force in the business world. Recently, 10 units were sold in Canada, which will become 30 NIA groups. Scott and Moriah look forward to the impact NIA groups can have on businesses in North America and beyond.
If you think you are ready to jump in and lead a revolutionary networking group in your area, visit networkinaction.com to learn more.
– Elice Morgenson