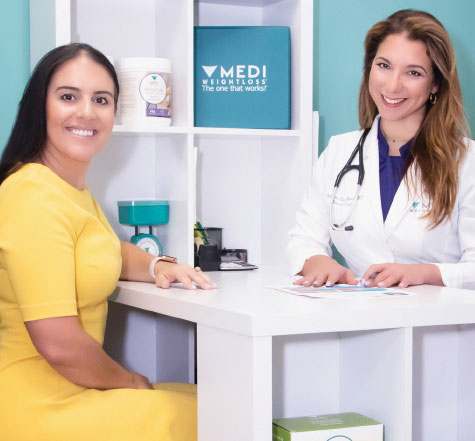 Gretchen San Miguel, MD, chief medical officer (CMO), is dual board-certified by the American Board of Family Medicine with a fellowship in geriatrics and by the American Board of Obesity Medicine. By  Cindy Charette
Dr. San Miguel Directs the Medical Affairs Team
Gretchen San Miguel, MD, chief medical officer (CMO), is dual board-certified by the American Board of Family Medicine with a fellowship in geriatrics and by the American Board of Obesity Medicine. Prior to Medi-Weightloss®, she built and ran a successful practice that was dedicated to the care of adult medicine and geriatrics. During this time, she also was appointed to a leadership role for a large regional healthcare system, where she helped physicians and practices improve production and patient care. Through this experience, San Miguel found a new passion for the administrative and corporate aspects of medicine, in addition to the medical and clinical aspects.
With over 115 locations sold in 27 states and positioned for additional growth, Medi-Weightloss is the leading medical weight-loss brand. San Miguel joined the leadership team in early 2019. "I was so impressed and blown away by the true clinical, scientific and evidence-based backbone that this company and the program has," she said.
As a chief medical officer, San Miguel leads the medical affairs team and works closely with Chief Science and Quality Officer Macklin Guzmán, DHSc, MPH. They are responsible for the clinical program protocol, medical provider guidelines, patient education materials, quality assurance and research and development. Medi-Weightloss is committed to evidence-based medicine, which means that everything in its program is backed by science. The published clinical outcomes prove that Medi-Weightloss is The One That Works!®. Patients not only lose weight, but they also improve their health while on the program.
Franchisees do not have to be physicians or have a medical background, but there must be a provider to oversee clinical patient care at each franchise. San Miguel oversees all program training for franchise owners, their staff and their medical providers.
"One of the most rewarding parts of my role is training and working with our franchisees and their providers," San Miguel shared. "We deliver extraordinary education and support, and I, personally, take pride in explaining all of the scientific and proprietary details behind our program."
For continued support, should a franchisee or provider have any questions about the clinical or medical aspects of the business, they can call or email Medi-Weightloss and receive a personalized response from San Miguel or her team.
Cindy Charette