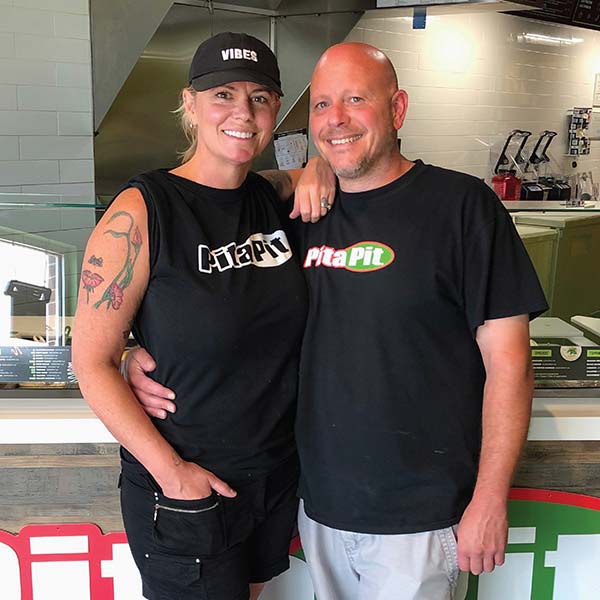 Pita Pit has spent 20 years establishing an innovative culinary system that is revolutionizing the QSR (quick-service restaurant) industry. By Elice Morgenson
Franchisee of the Month
Pita Pit has spent 20 years establishing an innovative culinary system that is revolutionizing the QSR (quick-service restaurant) industry, with over 600 restaurants operating worldwide. They set themselves apart from the competition by delivering fresh, healthy, and fast food that only needs to be experienced by tasting to know it is something special.
This unique concept is part of what drew AJ Unsen and his brother Paul to the Pita Pit brand. Pita Pit also has a relatively small initial investment fee, making it a smooth transition into franchisee life. AJ said, "I decided on Pita Pit because of the lower franchise fee and royalties. And obviously because of the food. We have nothing like Pita Pit in our area, so not only would I be bringing a variety of food choices but ones that target everyone."
The Unsens' knew this opportunity would make a big splash in their area when they opened their first Pita Pit franchise in Dubuque, Iowa, in 2018. They have done so well in fact that they have now expanded to a second location and have reopened a Pita Pit in Mason City, Iowa, this past fall.
When we asked AJ what he feels sets Pita Pit apart from the competition, he immediately said, "Uniqueness. It's not a sub or a pressed burrito, it's a nice thin pita filled with fresh ingredients cooked in front of you, made in front of you, and it's delicious." Pita Pit also offers gluten-free options, vegetarian alternatives, and they can make every option into a pita free bowl for the calorie-conscious eater. All of their food is clearly labeled and makes for easy navigation that leaves nothing to question.
Pita Pit isn't sitting still either. The New Year will see them bringing back a popular menu style for their customers. "In 2020 we will change the menu up a bit. We're going back to the original concept of 'you' – the consumer is creating your own pita versus picking one off the menu. We will also introduce Beyond Meat (a meat substitute made of peas)," said AJ.
Pita Pit helps entrepreneurs provide a healthy staple to their community. Consumers demand more from their food, and Pita Pit is more than happy to oblige. When asked about what he loves most about being a Pita Pit owner, AJ states, "Being my own boss. I get joy out of seeing happy customers enjoy our food over and over again."
Pita Pit takes the guesswork out of establishing a successful quick-service restaurant. They deliver comprehensive training, one-on-one feedback, and guidance from the corporate team. Through years of research, Pita Pit can help franchisees avoid wasting time and resources at every step of the way. AJ chose a Pita Pit for these same reasons. He said, "I was attracted to this franchise because of the lower risk, brand recognition, and proven concept."
– Elice Morgenson