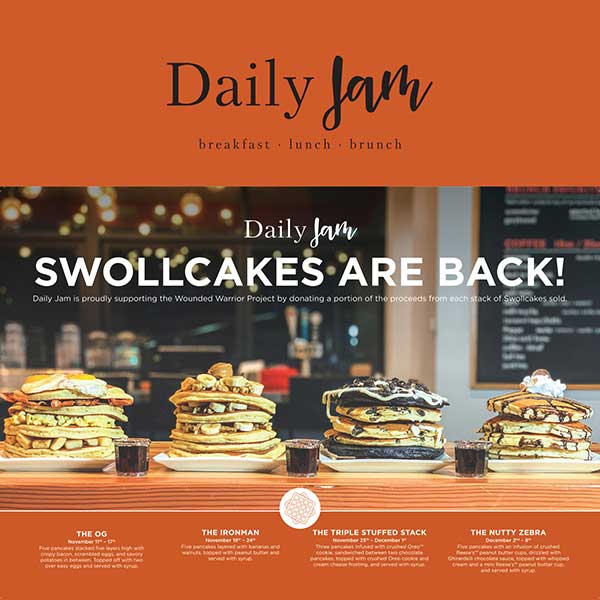 Daily Jam creates new menu items for promotions that give back to the community – a core value of the company. By Deanna Pledge
Innovation Plus
Daily Jam rolls out new menu items for a worthy cause
Daily Jam, a casual destination for breakfast, lunch, brunch and cocktails, is all about innovation.
For example, Daily Jam creates new menu items for promotions that give back to the community – giving back is a core value of the company. The revolutionary pancake stacks debuted at Daily Jam's Tempe and Scottsdale, Arizona, locations during a four-week promotion beginning on Veterans Day. Wounded Warriors is a partner for the promotion and will receive part of the proceeds from the event. (Past partnerships have included honoring first responders and their families with a special discount.)
Helping charity is one feel-good facet of the restaurant's promotions. But the staff also enjoys coming up with new menu items for them. "Everyone in the organization contributes to research and development – R&D," says Daily Jam President Berekk Blackwell. "Feedback is pooled from everyone about sample items, from cashiers to the general manager, over a few weeks before the promotion."
The new menu items for the promotion are called Swollcakes, and the staff is fired up about them. Blackwell describes the dish as a stack of five fluffy pancakes layered with eggs, potatoes and bacon, or a stack infused with Oreo cookies sandwiched in chocolate pancakes.
But Daily Jam's innovation does not stop with the menu.
Blackwell says the company is conscious of its environmental impact. "We work with Hickman's Family Farms for cage-free eggs and use other local producers to reduce disposables. Beginning January 1, we will launch new to-go supplies and use more sustainably sourced or disposed-of containers."
Another area of steady refinement is fulfilling customers' special dietary needs. "We already offer gluten-free waffles and are planning a vegan menu," Blackwell says.
"Daily Jam has exciting growth plans," he adds, "and we look forward to a busy 2020. Daily Jam is excited to show everyone what we can do and have fun. That is our last core value – to have fun!"
– Deanna Pledge
For more information about the restaurants or franchising, please visit our website: https://www.mydailyjam.com.