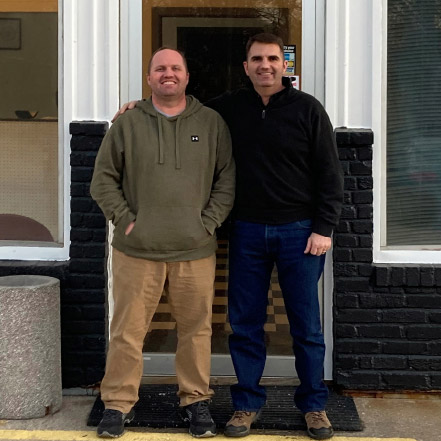 Despite some personal challenges along the way, Matthew Crouch, his father, Russell Crouch, and his brother, Mason Crouch, have partnered to convert an existing automotive business into a Mr. Transmission/Milex Complete Auto Care franchise. The business was officially rebranded in February in Kansas City, Missouri. By Cindy Charette
Committed to Serving Others
Despite some personal challenges along the way, Matthew Crouch, his father, Russell Crouch, and his brother, Mason Crouch, have partnered to convert an existing automotive business into a Mr. Transmission/Milex Complete Auto Care franchise. The business was officially rebranded in February in Kansas City, Missouri.
All three men are Marine Corps veterans with a heart for continuing to serve. Matthew recently finished his 26-year military career, with four years in the Navy and 22 years as a commissioned Marine Corps pilot. Russell served during the Vietnam Era, and Mason served after graduating from high school.
"The idea started with the realization that all three of us wanted to do something to build a long-term legacy, and that we wanted to provide ourselves with an opportunity to grow personally and intellectually, and also professionally," Matthew said.
The Crouches agreed that the automotive repair industry suited them best. "I would say, in particular, the Moran Family of Brands' family attitudes, values and treatment through the process of discovery that we found are what convinced us that they were the people we should work with," Matthew said.
None of the Crouches had a background in the industry, but Matthew emphasized that the franchise process supports those without automotive experience. "It reinforces the strength of a franchise system. Having a good partner, as we do, is critical in doing something new. You as the franchisee feel untested, but you're surrounded by well-tested, very experienced, knowledgeable and – I would say Moran is a family – so surrounded by family that is there to help you as you confront these things.
"It's not the first time they've seen it, and where you might have questions or lack confidence, they can intercede and help you navigate some of the shoal waters of new business ownership, and that's really been evident in the process so far," he said.
The Crouches maintained every employee from their previous business and will continue offering quality automotive care by servicing existing customers as well as expanding services to new customers and local schools.
"We feel like automotive care is something that everyone needs," Matthew said. The Crouches want to provide an option to keep cars on the road affordably for years to come.
This has been a close family effort in many ways, with all three families starting over in a new city after the loss of Russell's home in a fire, resulting in them living together for several months. The Crouch family made significant changes to open this business, coming from different areas of the country.
"The journey of opening this business also involved a decision by all of us to move more than 1,000 miles from where we were [each] living to be in Kansas City," Matthew said. "It's an endeavor in faith.
"I would say that all of this is based first and foremost on our Christian faith and prayer, and we feel like we've been led through every step of this," Matthew said.
With the support of Moran Family of Brands, their steadfast faith and hard work, the Crouches are confident in the success of their business.
Cindy Charette