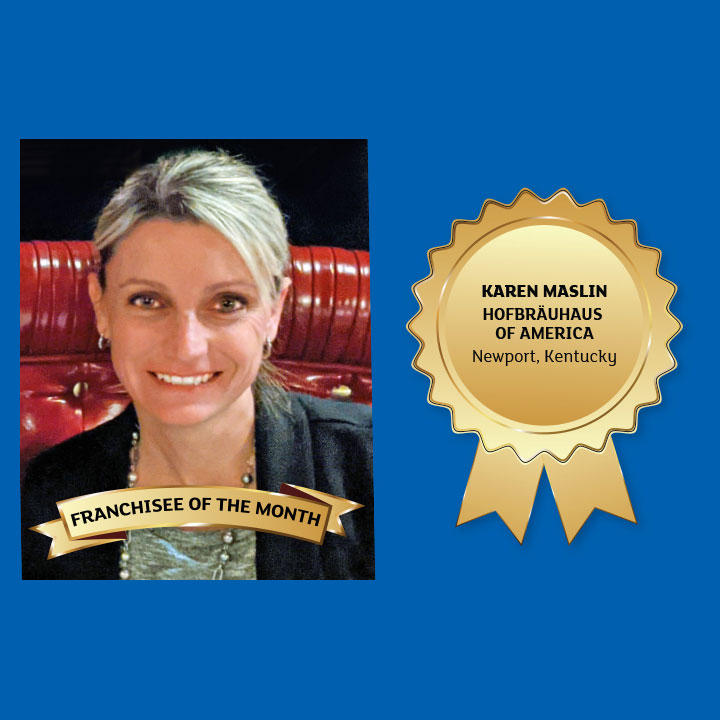 Karen Maslin has been a sales manager at Hofbräuhaus in Newport, Kentucky, for almost 17 years. "I think a large part of the reason I have been here so long is because the owners, managers and staff have become family to me," Maslin said. By Lizzy Yeserski
Beers & Cheers for Long-term Franchise Happiness
Karen Maslin has been a sales manager at Hofbräuhaus in Newport, Kentucky, for almost 17 years. "I think a large part of the reason I have been here so long is because the owners, managers and staff have become family to me," Maslin said. "Everyone works well together, and the team mentality is solid. The job itself is something I enjoy. I meet new people almost daily, and every day is different."
Maslin supports owner Nick Ellison, a managing member of the successful Hofbräuhaus locations in Pittsburgh, and Columbus, Ohio, as well as Newport – which just celebrated 20 years in business.
"There is a lot of German heritage in the Cincinnati area, and we thought it would be a concept that would thrive with the demographics here," explained Ellison. "Also, the Hofbräuhaus name is kind of like Singer sewing machine. The brand has a very recognizable name, especially in the brewing industry."
Hofbräuhaus of America, a celebrated purveyor of authentic German cuisine and delicious beer, strives to replicate the famed beer hall experience by offering a vibrant atmosphere full of rich Bavarian culture. Its roots date back to the original Hofbräuhaus in Munich, Germany, founded in 1589.
Each Hofbräuhaus typically features communal tables and live entertainment to match its festive ambiance. Guests devour German favorites like bratwurst, pretzels, sauerkraut and schnitzel, washed down with Hofbräu beer brewed in strict accordance with the German Purity Law of 1516.
Ellison has leveraged his highly visible Newport location to enjoy wild success, which he also credits to "the recognizable name, the beer formulas and help with menus and food items."
The corporate team empowers franchisees with unwavering support and knowledge. "One of the advantages of a franchise system is the maturity and experience of the franchisor in helping solve many complex problems," Ellison said.
In addition to providing a lucrative and profitable opportunity, operating a Hofbräuhaus allows the owners and employees to establish local roots and be part of the neighborhood fabric.
"In promoting the restaurant in the community, I have built many long-term relationships with other businesses in the industry in an effort to help each other be successful," said Maslin.
Lizzy Yeserski