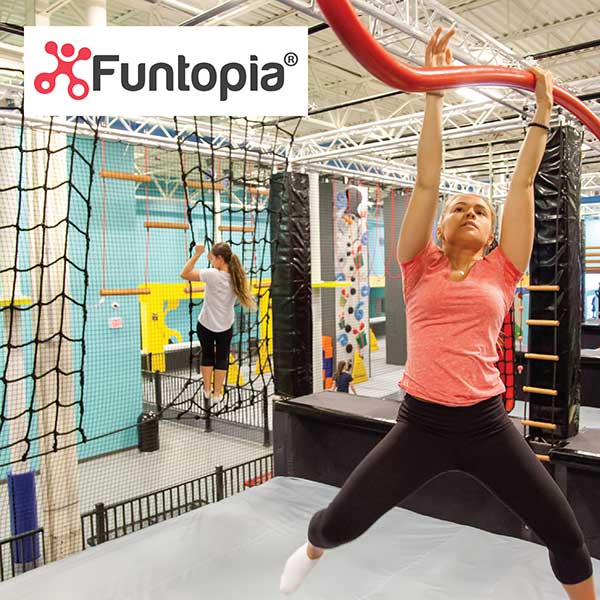 Funtopia aims to pull guests of all ages away from their high-tech screens and out of their seats with enticing yet meaningful exercise. By Elice Morgenson
Get Moving
Find all kinds of shared, action-packed adventure at Funtopia
Friends and families can indulge in non-guilty pleasures at Funtopia®. They reap the physical benefits of healthy exercise with the emotional bonus of shared experiences and happy memories.
Funtopia aims to pull guests of all ages away from their high-tech screens and out of their seats with enticing yet meaningful exercise. Backed by the international experience of Walltopia group, a worldwide leader in climbing walls, Funtopia has taken climbing gyms to another level. The adventure parks have a multitude of attractions and experiences, all under one roof. Visitors can satisfy every dream while being confident that their safety is paramount.
The destination challenges participants to overcome obstacles and play on an array of structures that stretch the limits of imagination. For instance, Funtopia turns climbing walls into giant dinosaurs and castles, and a speed wall tests the abilities of more advanced climbers. The ninja and ropes courses offer timed skill tests in a wide range of difficulty levels. Even toddlers can join the fun in activities geared to their young ages and small statures.
Franchisees will receive unparalleled support from corporate headquarters. The brand, culture and business are geared to benefit the community. Development, operations and marketing professionals comprise the Funtopia team, which is focused on individual franchisee success. The company provides each franchisee with initial consulting, training, ongoing support, marketing know-how, operations knowledge and a detailed manual.
The best part of owning a Funtopia franchise is becoming part of a family of like-minded, motivated people who believe that togetherness is a key ingredient to good times.
– Elice Morgenson
Visit www.funtopiaworld.com to learn more.