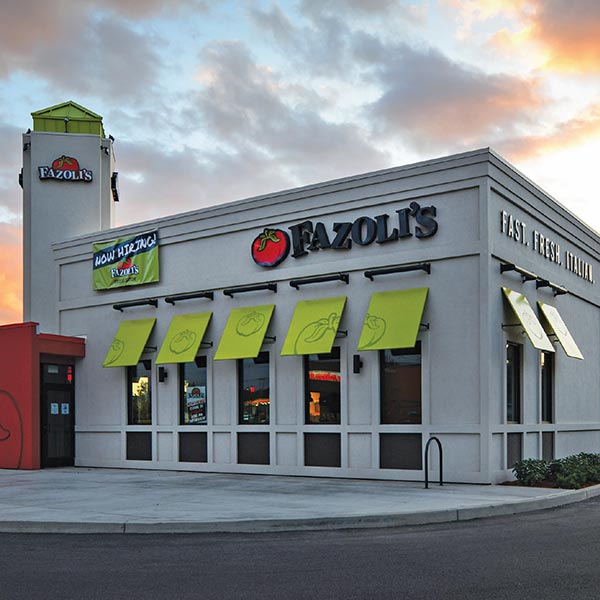 We interviewed Doug Bostick, Senior Vice President of Operations and Franchise Development for Fazoli's, about their recipe for success. By Rochelle Miller

With more than 200 restaurants spanning 28 states, Fazoli's has led the premium quick service restaurant (QSR) segment through its popular Italian fare and an elevated dining experience. We interviewed Doug Bostick, Senior Vice President of Operations and Franchise Development, about Fazoli's recipe for success.
What sets the Fazoli's brand apart from its restaurant industry competitors?
Fazoli's pioneered service-after-the-sale in the QSR industry before the true establishment of the fast-casual segment. We believe in providing guests with an unparalleled experience – real plateware, silverware, and tableside grated parmesan – differentiating Fazoli's from our competition in the QSR segment.
There is no one in the Italian space that can provide that premium guest experience at the value and speed that we offer Italian favorites. Guests won't get the welcoming dining experience, exceptional food quality, or great value anywhere else. Our franchises thrive because Fazoli's has figured out ways to outperform their franchised and less sophisticated non-franchised competitors with our successful, elevated QSR business model.
How is Fazoli's unique as a franchise opportunity?
Fazoli's is determined to be great partners with our franchisees. We have created programs to make their orientation into the brand seamless, from full IT support to extensive operations training and ongoing marketing assistance. We also work very closely with our franchisees during their new development and after they are open to ensure their success.
What qualities does Fazoli's seek in a franchisee?
At Fazoli's, we look for franchisees with food industry experience. However, if you have a passion for the restaurant business, we can teach you how to be a successful restaurant franchisee. We love prospective franchisees who are excited about the brand and the unique experience we provide to our guests. From the moment a franchisee joins the Fazoli's family, you are connected with all of our training processes and procedures to ensure that you and your team are confident and prepared to hit the ground running.
How has Fazoli's grown since its inception?
Since opening our first location in 1988, we have continuously provided Italian favorites, but we are also committed to menu innovation. Our famous garlic breadsticks are signature to the Fazoli's brand. Our iconic unlimited breadsticks for dine-in customers continues to bring back guests year after year. In addition to an innovative and evolving menu, we also maintain our competitive edge by investing in new technologies to elevate the guest experience and support our franchisees. In this technology-driven, on-demand marketplace, we have embraced technology, and in addition to app/rewards and mobile ordering, we also have integrated third-party delivery.
Why is now a great time to open a Fazoli's franchise?
There has never been a better time to join the Fazoli's family. We continue to offer strong unit economics, innovative menu options, and personalized franchise support. No other franchise can offer what we can at our price point. Our new prototype visually demonstrates our commitment to evolution and was built to perform at the highest operational level.
– Rochelle Miller
For more information about franchising opportunities with Fazoli's, visit https://ownafazolis.com/ or call 859-825-6212.