Leading Bathroom Remodeling Franchise Celebrates CEO as an Ambitious Leader Building an Industry Leading Brand.

PHOENIX — Ernst & Young LLP (EY US) announces Brad Hillier, CEO of Re-Bath, the nation's largest complete bathroom remodeling company, has been named an Entrepreneur Of The Year® 2023 Pacific Southwest Award finalist. Now in its 37th year, Entrepreneur Of The Year is one of the preeminent competitive business awards for transformative entrepreneurs and high-growth companies who are building a more equitable, sustainable, and prosperous world for all.
Hillier was selected by an independent panel of judges. Entrepreneurs were evaluated based on their demonstration of building long-term value through entrepreneurial spirt, purpose, growth, and impact, among other core contributions and attributes.
"It is an honor to be recognized as a finalist for this prestigious award," said Hiller. "At Re-Bath, we are constantly pushing the boundaries of innovation to deliver exceptional bathroom solutions that meet the evolving needs of our customers. This recognition is a testament to the incredible work of our team and our shared commitment to growth and progress. We remain dedicated to driving the future of our industry by delivering cutting-edge products, fostering a culture of innovation, and empowering our franchisees and customers."
Under Hillier's leadership, Re-Bath has achieved impressive growth marks as he continues to lead with a results-forward approach. With large retail partnerships contributing to overall brand strength, Re-Bath aims to award 25 franchisees in 2023 that will grow unit count to 149.
Large retail partnerships have proven successful for Re-Bath's overall growth and market share gains, driving nearly a 31% year-over-year increase in systemwide franchise installed sales. In 2022, Re-Bath gained another big-box retail partner in the home improvement space. Not only are these partnerships with top-tier retailers helping to elevate brand awareness, but they are also contributing to franchisee's bottom line, making Re-Bath's franchise opportunity an attractive investment.
Per Re-Bath's Franchise Disclosure Document, franchisees that opened prior to 2020 had average revenues of $4.9M in 2022*.
Re-Bath is riding a wave of momentum as Hillier seeks to double the business in the next four years, inching closer to the goal of becoming a billion-dollar-company. Key to achieving this milestone will be the TZP Group acquisition, a strategic continued focus on partnering with exceptional franchisees, strengthening world-class corporate support, and enhancing the customer-service experience with new technology and innovation. Combined, these efforts will help propel Re-Bath to a household name across the country.
The success achieved by Re-Bath has not gone unnoticed, ranking No. 2 on Qualified Remodeler's Top 500 Nationals List and was recognized by Entrepreneur's Franchise 500®, the world's first, best and most comprehensive franchise ranking. Most recently, Re-Bath earned the No. 1 spot on Bob Vila's 2022 Best Home Improvement Contractors of 2022 Ranking for "Best Bathroom Renovations."
EY Regional award winners will be announced on June 16, 2023, during a special celebration. The winners will then be considered by the National judges for the Entrepreneur Of The Year National Awards, which will be presented in November at the annual Strategic Growth Forum®, one of the nation's most prestigious gatherings of high-growth, market-leading companies. The Entrepreneur Of The Year National Overall Award winner will then move on to compete for the World Entrepreneur Of The Year® Award in June 2024.
The Entrepreneur Of The Year program has recognized more than 11,000 entrepreneurs throughout the US since its inception in 1986, and it has grown to recognize business leaders across 145 cities in over 60 countries around the world.
For more information on Re-Bath and franchise opportunities, visit www.rebathfranchise.com/ or call 888-454-8842.
*The figures reflect the average gross sales per franchise unit and average gross profit for 63 Re-Bath franchised businesses that opened prior to 2020. These averages are based on a 52-week fiscal period from January 1, 2022 through December 31, 2022. Of these 63 franchised businesses, 25 (or 39.7%) attained or exceeded the average gross sales per unit and 31 (or 49.2%) attained or exceeded the average gross profit. Some outlets have sold this amount. Individual results may vary. There is no assurance that you will sell as much as the average. See 2023 Re-Bath Franchise Disclosure Document for details.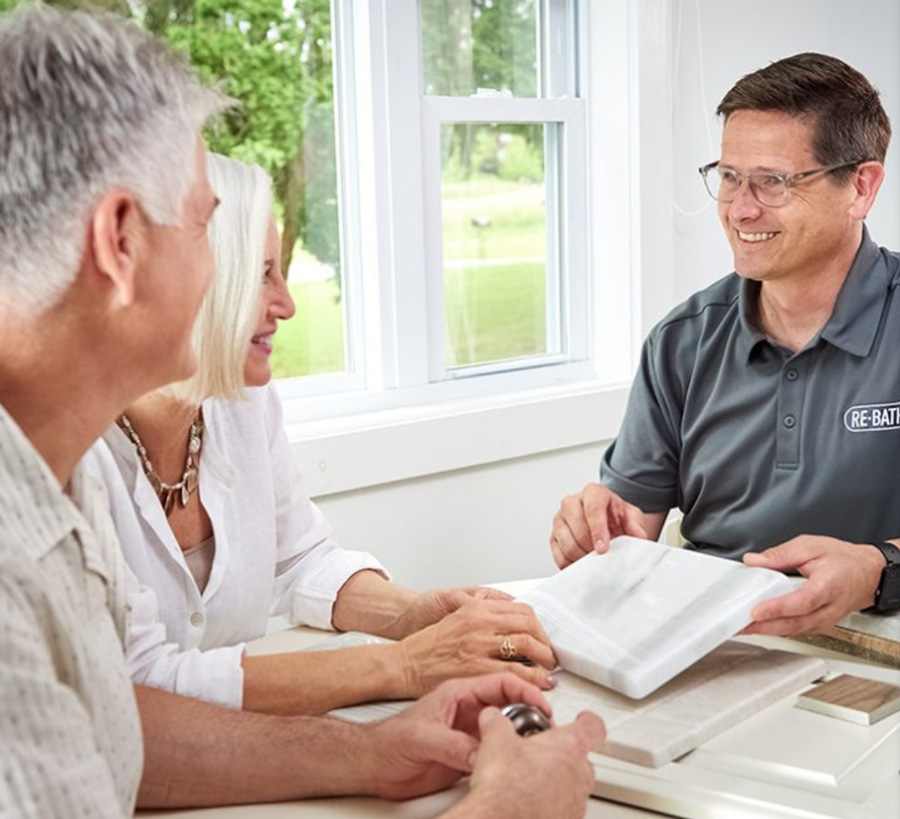 About Re-Bath
Re-Bath is the nation's largest complete bathroom remodeling franchise that has grown to more than 120 locations across the country. The parent company's first entry in the bathroom remodeling industry occurred in 1978 and focused on the hospitality sector. In 1991, Re-Bath launched its first franchise location to focus on the residential market. The company offers complete bathroom remodels, tub and shower updates, plus aging and accessibility solutions. From simple bathtub replacements to complete bathroom redesigns, Re-Bath makes bathroom remodeling effortless, convenient and affordable, all with professional, friendly and factory-trained installers. Re-Bath is a one-stop service that covers the entire process – from design to done – in three easy steps: consultation, removal, and installation. Re-Bath assembles its own exclusive line of products at its headquarters located in Phoenix, Ariz., and offers best-in-class products from national brands for its customers. For more information, please visit www.rebath.com or www.rebathfranchise.com for more details on the franchise opportunity.
About Entrepreneur Of The Year®
Entrepreneur Of The Year® is the world's most prestigious business awards program for unstoppable entrepreneurs. These visionary leaders deliver innovation, growth and prosperity that transform our world. The program engages entrepreneurs with insights and experiences that foster growth. It connects them with their peers to strengthen entrepreneurship around the world. Entrepreneur Of The Year is the first and only truly global awards program of its kind. It celebrates entrepreneurs through regional and national awards programs in more than 145 cities in over 60 countries. National Overall Award winners go on to compete for the World Entrepreneur Of The Year® title. Visit ey.com/us/eoy.