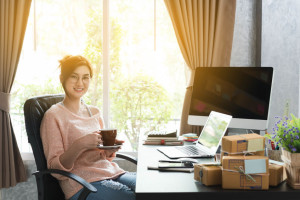 It's one of the greatest motivators in all of business: the opportunity to work from home. It may not seem like it, but there are actually quite a few franchise opportunities that allow you to do just that. When you are ready to take that step, one of the first things you need to do is create your at-home work space. Without adequate office space, the correct equipment or a "Do Not Disturb" sign, working from home can be a difficult task.
1. Choose your office location. Make sure this is a room that is big enough to hold everything you need in an organized manner. If there is anything in the room that might distract you (such as a TV), remove it. Try and choose a room that minimizes the distractions of your living environment (i.e. kids, lawn mowers, dogs barking, etc.).
2. Furnish your office space. This includes furniture, storage containers and electronic equipment that you need. "Need" is the key word here. Don't buy things you won't need. Not only are they a waste of money, but they will take up valuable space in your office. Another thing, don't skimp on the technology. Make sure your internet is fast and that your computer is up-to-date and loaded with the programs you will need.
3. Set everything up in an organized manner. At least to start, because everything will get a little crazy once you begin working, make sure everything is in place and that your office is clean. A clean and organized work space will lead to hours of distraction-free work.
4. Set a work schedule and stick to it. This is important not only for you but for your family members as well. You may also need to invest in a "Do Not Disturb" sign and let your family know that when the sign is on the door, you're off limits. There might be a lot more to setting up a home office than you thought. Good luck working from home!