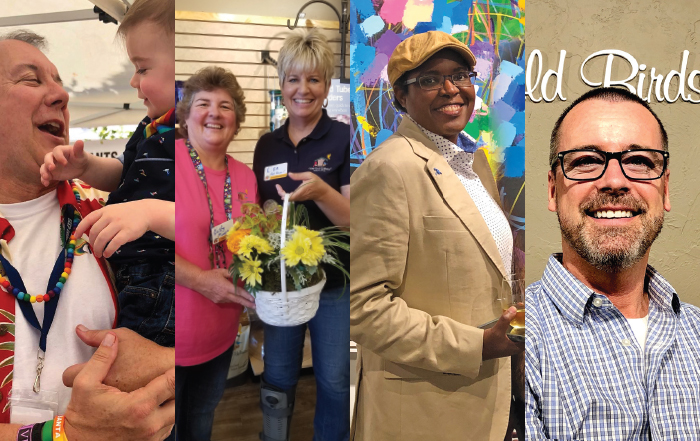 In September 2019, the International Franchise Association (IFA) launched the Pride Council, a network for LGBTQ small-business owners and employees from across the country. It provides opportunities for mentorships, fosters discussions concerning best practices, and creates a forum for sharing experiences and to benefit others. By Rose Mango
Franchisees are living the dream, thanks in part to IFA Pride Council
In September 2019, the International Franchise Association (IFA) launched the Pride Council, a network for LGBTQ small-business owners and employees from across the country. It provides opportunities for mentorships, fosters discussions concerning best practices, and creates a forum for sharing experiences and to benefit others. The launch of the Pride Council has helped many step into franchising. Members say it's because of the remarkable support of the council.
Mark Jameson, executive vice president of franchise development at FASTSIGNS and council chairman, said, "Diversity is a key part of franchising, and I believe this council is such a big step towards expanding that hallmark of our business model to the LGBTQ community."
Paul Pickett, chief development officer of Wild Birds Unlimited, said: "We are excited to have Pride Month featured by Franchise Dictionary Magazine and to highlight some amazing LGBTQ franchisees living the dream! We believe the best is yet to come for the Pride Council, for our communities, and for franchising."
"After careers in the corporate and nonprofit sectors, I invested in a FASTSIGNS franchise. I traded in the commuter life and have more time to become more involved in my community. I have supported local LGBTQ organizations and events by providing thousands of dollars in donated signs. I have been able to provide jobs to people from across the LGBTQ spectrum – not by specifically recruiting from within the community, but by being open to candidates regardless of sexual orientation and gender identity. As someone who fought for decades for workplace equality, the ability to impact the lives of just a few LGBTQ people by being open to their identities, has been simply fabulous." – Kevin Jones, FASTSIGNS
"It was 28 years ago when I was welcomed as a Wild Birds Unlimited franchisee with open arms! Right away, I felt valued for the talents and skills I brought to the franchise, as well as my perspective as a member of the LGBTQ community. Knowing my franchisor was 100% behind me in operating my business in a welcoming, inclusive, and open manner contributed to my ability to prosper. Over the years, I've seen the positive impact our own LGBTQ franchisees have had on their families, their financial freedom, and their larger communities. Having the IFA Pride Council in place is a "win-win." It connects the IFA with a community brimming with talent and skill. It gives me even more confidence and assuredness in recommending Wild Birds Unlimited as a franchise option to others in the LGBTQ community." – Brad Brockman, Wild Birds Unlimited
"The most important thing we considered was that the franchise supported our belief in diversity. We were so pleased and excited to discover that one of the Wild Birds Unlimited core values is: 'We embrace diversity in our community.' We chose to franchise with them. Soon after we signed our franchise agreement, Paul Pickett was recognized for his help launching the Pride Council for the IFA. Having the IFA's Pride Council advocating for inclusivity for ALL individuals is such a win for our communities. Now we envision a bright future, and we feel accepted as a couple and included as LGBTQ entrepreneurs! Thank you to the International Franchising Association and the Pride Council for supporting us all." – Kathy and Lisa Massey-Williams, Wild Bird Unlimited
"I wanted to for work for myself. While searching for my second act, I found FASTSIGNS. The process was seamless, and knowing that the franchise was LGBTQ-friendly, made the decision even easier. As an LGBTQ member, it was important to find a franchise that was supportive, not just in business, but inclusive of all walks of life, and on the front lines of the many issues we face. I could not be happier after joining such an amazing franchise." – Julonda Johnson, FASTSIGNS
If you are interested in learning more about the IFA's Pride Council, visit the IFA's website, franchise.org.
– Rose Mango