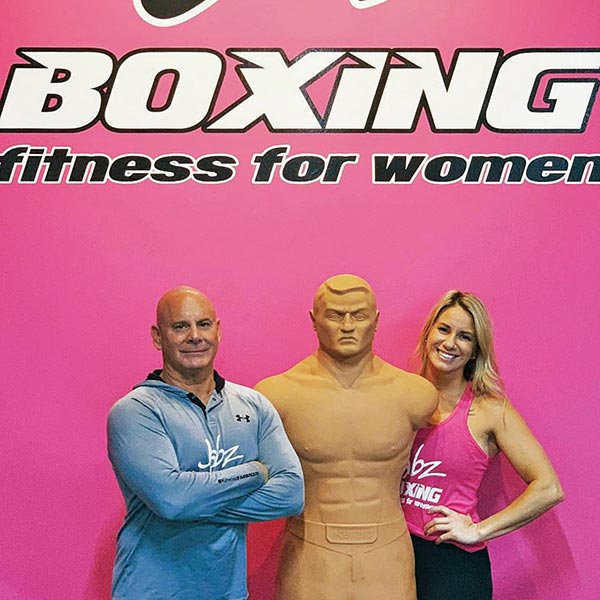 Jabz – a small women's focused boxing program – has now been ranked #49 on Entrepreneur's "2019 Top New Franchises" list with plans for tremendous continued long-term growth. By Cindy Charette

When Kimberlee White left Philadelphia to attend Arizona State University, she never imagined what was in store. Being one of five siblings, White always had a heart for children, so she decided to pursue a degree in special education. After graduation, she went on to teach a group of special needs children, whom White will always refer to as "the loves of her life."
During her teaching career, White was invited to a boxing competition by Len Hayko Jr. (former boss and now business partner). White was instantly inspired by the sport and all that came with it, especially the toned bodies, inner strength and sheer determination she witnessed. It was on that day White decided she wanted to train in boxing, so with seven of her friends, she began training with Hayko at a local gym. White shares, "The moment I put on those MMA boxing gloves, the feeling of empowerment overcame me."
However, training in a gym used primarily by men eventually led to Hayko and White renting a space of their very own.
With limited funds, they did much of the work themselves, building a custom steel boxing ring and demo'ing their own space – hard work she refers to as "Philly Style."
After teaching her students all day, White would go to her boxing studio at night. Her passion for Jabz was unequivocally shared by many other local women.
As word spread, some would drive 30 to 45 minutes to attend the circuit training program that was one of a kind in their area. Customers would bring three or four friends with them, and the business continued to grow by word of mouth.
When a Jabz customer asked if they would franchise, Hayko, with all of his entrepreneurial experience, knew that this would be a great idea. Hayko and White began franchising Jabz in 2013, the same year it was founded. In 2016, White made the decision to focus on Jabz full time, and from there, 10 additional licenses were awarded that year.
White's love of children has followed her as well, and she is excited to announce that Jabz has implemented a Jabz Junior program for youth ages 8 to 14.
What began as a small women's focused boxing program has now been ranked #49 on Entrepreneur's "2019 Top New Franchises" list with plans for tremendous continued long-term growth.
– Cindy Charette
Visit www.jabzfranchising.com for more information.