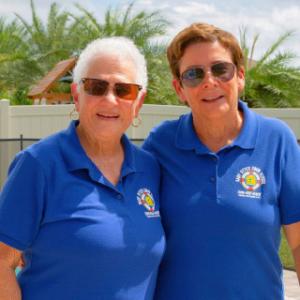 Baby Otter Swim School Celebrates a Remarkable First Year in Franchising With Robert Katz, Franchise Developer of The Stanwood Group. By Rose Mango
Baby Otter Swim School Celebrates a Remarkable First Year in Franchising With Robert Katz, Franchise Developer of The Stanwood Group.
In a remarkable milestone, Baby Otter Swim School is celebrating its successful first year of franchising in partnership with franchise expert Robert Katz of The Stanwood Group. Co-founder Marlene Bloom, President Mindy York, and their close friend and baseball Hall of Famer Andre "The Hawk" Dawson, along with Katz, have set out on a mission to end the nationwide epidemic of accidental drownings, through education and franchise opportunities.
Circa 1975, due to a lack of availability, Bloom's educational background enabled her to create Baby Otter's proprietary Turn, Kick, Reach® program for children under 3, special needs children and those on the spectrum. Passionate for the mission, York, with a strong business background, joined forces with Bloom in 1985, after almost losing her child to an accidental drowning. 
Celebrities, including Gwyneth Paltrow, have chosen Baby Otter Swim School to teach their children the life-saving proprietary Turn, Kick, Reach program, exclusive to Baby Otter. Dawson expressed his profound connection, stating: "This is the most rewarding venture I have ever been involved with, especially since I learned to swim with them as well."
Katz, a seasoned franchise developer with over 23 years of experience, has dedicated his time and expertise to helping Baby Otter Swim School achieve its life-saving mission since 2020. Katz's career includes developing hundreds of brands nationwide and donating free of charge his guidance to ensure Baby Otter's continued growth. Katz's commitment is driven by his personal desire to contribute to Baby Otter's mission through its franchise expansion across the country.
"Accidental drownings remain a significant concern in a nation where water activities are prevalent. However, the essential skills imparted by Baby Otter ensure that children are safer around pools, during vacations or in their own backyards," said Katz.
Baby Otter Swim School has emerged as the nation's fastest-growing traveling swim school franchise in just one year. The founders and their supporters are celebrating the awarding of more than 15 territories, knowing that this expansion translates to saved lives. The school's learn-to-swim lessons are inclusive of all ages, teaching water-safety skills, from toddlers to senior citizens. The proprietary Turn, Kick, Reach program, delivered through private lessons over five consecutive days, equips individuals with life-saving skills. 
What sets Baby Otter apart is its affordability and flexibility as a franchise. Unlike traditional brick-and-mortar swim schools that require costly real estate, Baby Otter offers a low-entry opportunity, enabling franchisees to get started quickly without the burden of building a physical facility. 
As Baby Otter Swim School expands its reach, it's not merely offering swimming lessons – it's saving lives. If you want to get involved in this global mission visit babyotterandredawson.org or to learn more about the franchise, visit babyotterswimschool.com.
Rose Mango
"Baby Otter corporate has allowed me to continue to be the teacher I've always been, while also helping me to thrive and become a financially independent business owner. The initial training program and ongoing support  was more than I could have hoped for."

– Tara, Franchise Owner of Coral Springs and Parkland
"The support I received from the beginning has been key to the development and success of my franchise and has allowed me to maximize my income to numbers I've never experienced."
– Caleb, Franchise Owner of Northern Palm Beach
"My territory's growth and profitability just within the first year have doubled my teacher salary and given me the opportunity and satisfaction to save lives every day. The training and support are unparalleled."

– Staci, Franchise Owner of Southwest Orlando