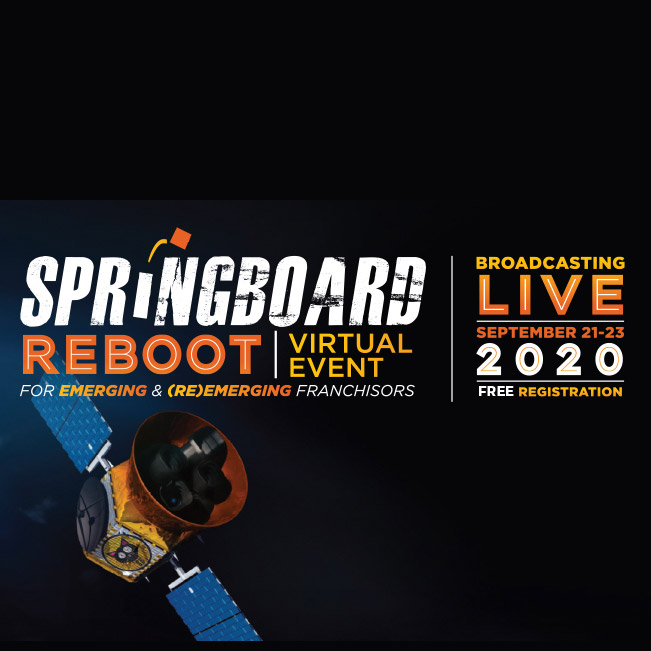 Springboard Reboot Virtual Event for Emerging & (Re)Emerging Franchisors. Broadcasting LIVE / September 21-23, 2020 / Free Registration. It's time to get some much-needed face-to-face (or, screen-to-screen) with each other by attending the Springboard REBOOT Virtual Event. No social distancing is required in this virtual event. It's face-to-face virtually, which is so needed today. By Rose Mango
Springboard Reboot Virtual Event for Emerging & (Re)Emerging Franchisors
Broadcasting LIVE / September 21-23, 2020 / Free Registration
It's time to get some much-needed face-to-face (or, screen-to-screen) with each other by attending the Springboard REBOOT Virtual Event. No social distancing is required in this virtual event. It's face-to-face virtually, which is so needed today.
This event corrals emerging and re-emerging franchisors that come together and discuss all things franchise with one another.
Springboard has always been a community where emerging franchisors find mentorship. Franchisors rave about the value they receive from vetting their particular problems and opportunities with more experienced franchise friends. Every year, their mentor matchmaking exercises are among the best-attended live sessions.
The most important thing to do is register for your [Re]Launch Mentor Pod as soon as possible. Here's why:
A Mentor Pod is a small independent workgroup with whom you'll traverse the Springboard Event. Springboard creates each pod by pairing franchise leaders with varying levels of experience and areas of expertise. Mentors will reach out in advance to collaborate on the session content most relevant to your circumstance. They then assist you with applying the general principles you've learned in session to your actual business, as well as answer questions about the particular circumstances you're facing in the current and future COVID-19 environment.
This is an opportunity for the hundreds of emerging franchisors who have matriculated through our mentoring sessions to get guidance and direction at no cost.
Since they're waiving the registration fee for all franchisors, they must anticipate your participation to be sure to deliver the same high touch experience you have grown to expect from Springboard. So, be sure to register right away!
This is an opportunity to pay it forward to the emerging franchisors who have the need, but not the resources, to learn best practices for navigating through the pandemic and its accompanying regulations.
Please help Springboard make this event a great success by registering for Springboard and your Mentor Pod as soon as possible!
Register here: franchisespringboard.com.
– Rose Mango