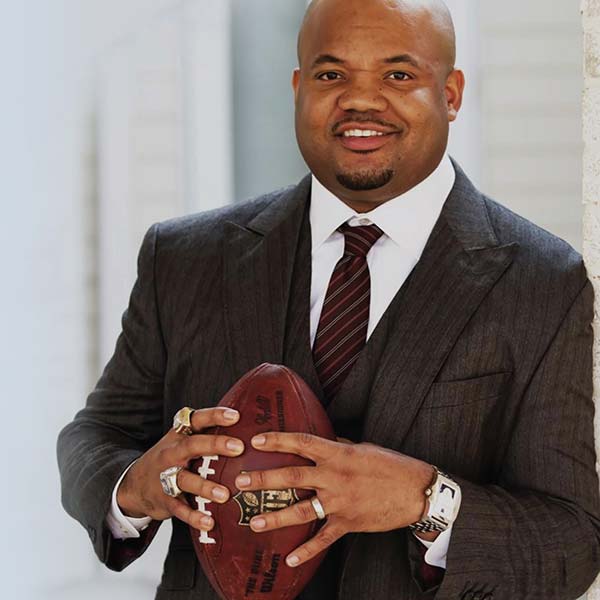 Former Indianapolis Colts linebacker Gary Brackett applies the same winning strategies that resulted in a Super Bowl victory to building his successful Stacked Pickle sports bar and grill franchise. By Rose Mango
Former Indianapolis Colts linebacker Gary Brackett applies the same winning strategies that resulted in a Super Bowl victory to building his successful Stacked Pickle sports bar and grill franchise.
"One of the most rewarding things about being an NFL player with the Indianapolis Colts was teamwork. The chemistry of working together for a common goal is similar in the restaurant industry. All those skills that contributed to a championship in football are transferable," says the owner of The Brackett Restaurant Group, who is also a sought-after success coach and keynote speaker.
Today, Brackett owns 10 corporate locations – nine in the Indianapolis area and one in Dayton, Ohio – and has seven franchises, with three units being built in Colorado. Brackett's goals for 2020 include guiding Stacked Pickle's continued growth in the U.S. while looking into ideas and potential partners for taking the brand overseas.
Named Indy's No. 1 neighborhood and sports bar by several publications, Stacked Pickle offers a comfortable, casual, family-friendly dining experience with exemplary customer service, a full menu, daily food and drink specials, entertainment and a variety of events. The bar features more than 15 draft beers, including craft and domestic, and a variety of mixed drinks, wines and spirits. Guests can catch their favorite sporting events from any seat in the house on any of the numerous projectors and plasma TVs.
Even before retiring from the NFL in 2011, Brackett was planning a career after football. He knew he wanted to do something sports-related that would capitalize on his brand. An economics major at Rutgers University, he had long been interested in entrepreneurship. He also had a keen interest in coaching and mentorship, which he sees as integral to his role as a franchisor passing along his experience and expertise to his franchisees.
"All those things we've learned in terms of operating efficiently, managing food costs, making sure we're profitable in the restaurant are things we pride ourselves in not only for ourselves but for our potential franchisees," Brackett says.
Brackett's franchise model offers other advantages for franchisees, including an initial investment of about $450,000 for a Stacked Pickle franchise. By comparison, some competitors charge $1.5 to $2 million to open a restaurant. That amount of money can be overwhelming for first-time franchisees, kicking them right out of the game before they get a chance to play.
Brackett can keep entrance fees lower by considering second-generation locations, which are sites where other restaurants previously operated and closed. These sites offer big savings for franchisees, yet many are in prime locations.
Over the years, Brackett has created a winning playbook designed to teach anyone how to establish and run a successful Stacked Pickle franchise. But Brackett doesn't want just anyone; he's laser-focused on selecting team players with a winning mindset and no-quit attitude. After all, if not for Brackett's drive and persistence, his own story might have been different.
As an undrafted free agent signed by the Colts in 2003, he was a backup his first two years before earning a starting position, ultimately being named a team captain in 2006 when the Colts defeated the Chicago Bears to win Super Bowl XLI.
He applied that same diligence in his post-NFL career, earning his MBA from George Washington University's accelerated executive leadership program. Brackett worked hard to learn everything he could about franchising by attending numerous conferences and becoming accredited as a CFE (Certified Franchise Expert).
Like professional football, the restaurant industry can present challenges. Brackett said, "Make no mistake about it, tough times are going to occur, but we're going to be with our franchisees every step of the way, making sure we're hand-in-hand, fighting any obstacle to make sure we're victorious."
– Rose Mango
Want to join Stacked Pickle's winning team? Learn more at www.stackedpickle.com.