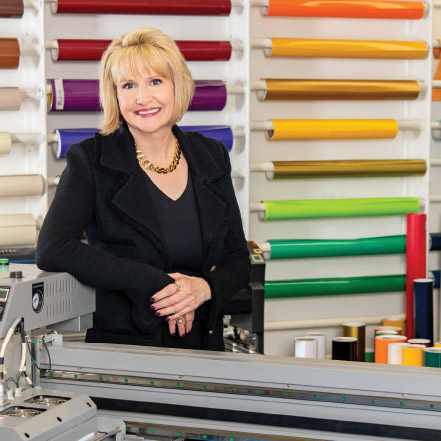 Catherine Monson is recognized again this year by Franchise Dictionary Magazine as one of the WOW: 50 Women Of Wonder and she graces our cover for excellent reasons. Under her leadership as CEO of FASTSIGNS since 2009, the brand has become one of the country's largest franchise companies. It has benefited significantly from Monson's strategic positioning and her franchising and broad business and marketing experience. By Rose Mango
FASTSIGNS CEO steers the proverbial ship through stormy seas
Catherine Monson is recognized again this year by Franchise Dictionary Magazine as one of the WOW: 50 Women Of Wonder and she graces our cover for excellent reasons. Under her leadership as CEO of FASTSIGNS since 2009, the brand has become one of the country's largest franchise companies. It has benefited significantly from Monson's strategic positioning and her franchising and broad business and marketing experience.
Since February, Monson has also served as International Franchise Association (IFA) chair. In her role with the IFA, she works to further its mission of protecting and promoting franchising through government relations, public relations, and educational programs.
Monson has been an inspiration for all women as she has broken through barriers to bring about positive change in what once was the male-dominated industry of franchising. Today, she not only leads one of the largest sign companies in the world but in her position as IFA chair, she creates opportunities for others and franchising as a whole.
If you have had the honor of working with Monson, you know she leads with tremendous skill and an insatiable desire to see people succeed. Through the pandemic and resulting economic crisis, Monson has demonstrated what she does best: leading with laser focus and unbreakable spirit.
An avid researcher, trend watcher, and consumer of national and international news, Monson saw a potential storm well before others. She gathered information to create a recession plan for her franchisees for a year and a half. When Monson called her senior team together to begin a coronavirus plan in early February, some doubted the need. But she pressed on in planning for a potential pandemic, having the team created a "how-to" guide for franchisees so much of their team could work remotely and get the corporate team prepared in the case that occurred. In early March, the company had already invested in laptops for those employees working on desktop computers, cameras, and microphones for all team members.
Everything was in place by early March, and on March 16, Monson announced work-from-home orders for the entire company. Then, COVID-19 swept the globe like a tsunami. But Monson was well-prepared to steer the FASTSIGNS ship into calmer waters. With her "How to Survive a Recession" kit for franchisees ready to go and all corporate team members equipped and trained on all needed for teleworking in place, the entire FASTSIGNS team had already transitioned seamlessly into remote work and braced for changes to come.
The March 16 meeting was difficult as Monson recognized the tension and fear in her team members' faces. Recalling a quote from best-selling author Zig Ziglar, she said, "Expect the best, prepare for the worse, capitalize on what comes." Monson set out the plan for her team in a "company huddle" early that morning.
"Expect the best, prepare for the worse, capitalize on what comes."
Monson quickly recorded a video for her franchisees. It was sent to the franchisees before the end of the day on March 16. She announced weekly "Connect with Catherine" video conference calls for her entire franchisee's network, beginning that Thursday morning, March 19, and continued them through July. Sharing time-sensitive information: how to assemble the documentation to be deemed an "essential" business if inspected, how to comply with the FFCRA, the CARES Act, what signage and other safety products to sell, how to approach customers and prospects when in-person meetings were not an option, how to apply for a PPP Loan, etc.
She repeatedly asked herself the question: What can we do together to capitalize on what has come?
Team members immediately went to work designing COVID-19 signage for franchisees to personalize and brand for their customers. Everyone quickly realized that not only was Monson right, but she had discovered a fantastic opportunity to serve each franchisees' communities and help meet all their signage and safety needs in an unprecedented time of crisis.
Franchisees headed straight to their local hospitals, grocery stores, food banks, city halls, and local businesses to offer signage and safety barriers. The need was enormous – and immediate. Signs were developed for the new social distance rules. The company's action to "capitalize on what comes" resulted in a flywheel of momentum, enthusiasm, and success stories that continued to build. Weeks in, realizing young people would miss out on graduation ceremonies, the FASTSIGNS International team created marketing materials and social media posts for franchisees to sell graduation signs; franchisees headed to the local school districts and placed Facebook ads, and graduation signs became a very successful product.
Meanwhile, the FASTSIGNS team turned its attention to other needs, contacting vendors who could supply acrylic for protective shields. The team then began distributing the material to franchisees. Other companies started to contact FASTSIGNS requesting the company make COVID-19 intubation boxes and intubations shields made of clear acrylic.
As the nation spiraled into economic chaos, Monson steered straight ahead with positivity and encouragement. FASTSIGNS was not immune to the initial downturn, but the company began seeing positive sales growth through perseverance. July and August's figures were up from the prior year were results from preparedness and courage in leadership.
As a successful female CEO, Monson has learned never to doubt herself. "I wholeheartedly believe in never giving up," she says, "and don't ever give in."
– Rose Mango