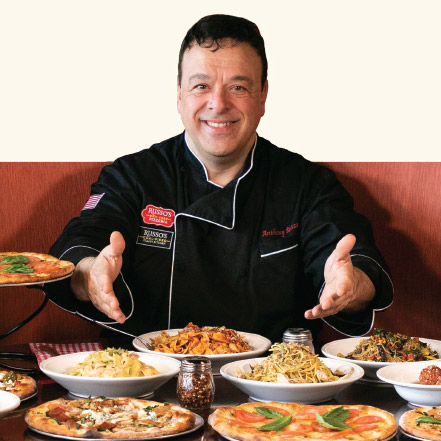 Chef Anthony Russo, CEO/founder of Russo's New York Pizzeria and Italian Kitchen, grew up going to his grandmother's house every Sunday in a small New Jersey town. By Cindy Charette
Chef Anthony Russo, CEO/founder of Russo's New York Pizzeria and Italian Kitchen, grew up going to his grandmother's house every Sunday in a small New Jersey town. She would cook all day for the family, using fresh ingredients from the backyard garden. Russo said: "It was great; it was tradition."
As a franchisor, Russo's dream was to bring this very experience to every Russo kitchen, by offering authentic, made-from-scratch Italian food using only the freshest ingredients.
Russo began learning to cook at the age of 12, when his parents opened their first restaurant. The family eventually relocated from New Jersey and opened a restaurant in Galveston, Texas, where young Russo learned how to cook great dishes with seasonal chefs from Italy who would come to visit every year. Russo explained his family promise, which is written on every menu: "My parents always told me, 'If it isn't fresh, don't serve it.'"
When asked what he loved most about being a franchisor, Russo shared, "I'm still a hands-on culinary guy in the kitchen." In fact, he spends about 40% of his time creating new recipes for his stores. Russo also loves teaching franchisees his traditional family recipes, along with the skills and trade secrets he has learned over the years.
One of Russo's greatest successes as an entrepreneur is to have his stores in the international market. Aside from having seven corporate-owned franchises and close to 40 franchisees in the U.S., Russo is excited to have opened several restaurants in Dubai and three in Saudi Arabia.
Russo's New York Pizzeria was founded in 1996 and franchised in 1999. Even with this long list of accomplishments over the years, Russo is most proud of the successful franchise concept he has put together. With food costs that run 20% to 21% on average, franchisees are shocked when they learn about Russo's systems and how using fresh ingredients can cut costs. "I'm proud of what we've built. It's not a cookie-cutter concept. It's really a true, authentic homemade pizzeria. That's what I'm proud of. That was my dream to create," Russo explained.
For more information, visit nypizzeria.com/franchise.
– Cindy Charette