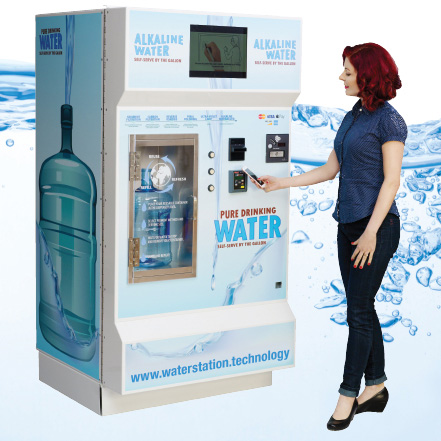 Utilizing a specialized filtration system to purify and mineralize water on demand, WaterStation Technology (WST) has been revolutionizing the way consumers purchase filtered water for the past eight years. By Jessica Jones
Utilizing a specialized filtration system to purify and mineralize water on demand, WaterStation Technology (WST) has been revolutionizing the way consumers purchase filtered water for the past eight years. Found predominantly in participating grocery and convenience stores, the state-of-the-art vending machines allow shoppers to refill their 1-, 3-, and 5-gallon containers and purchase water with the rest of their groceries. And since the outbreak of COVID-19, when unattended retail and vending became critical infrastructure, WaterStation Technology's mobile service has become crucial to the suddenly overburdened beverage industry.
"We are finding our investors' WaterStations are having a higher usage of customers during this unfortunate time," noted Dick Humphrey, vice president of business development for Broker Networks. "Our business model brings essential services in providing safe drinking water to the communities we serve. The priority right now is consistent access to food or water rather than a need for specialty items."
By linking directly into each placement location's water source, eliminating the need to maintain inventory, and offering consumers a contactless point of purchase, the business has long associated itself with convenience.
"Our mission is to provide individuals, towns, cities and whole nations with a healthier and less expensive drinking water delivered through more responsible purification systems that do not damage the environment," the company notes on its website. "We feel privileged to be on the vanguard of a movement to purify the world's drinking water, which itself is the essence of life."
Classifying their bottleless water stations as both "planet friendly and human healthy," WaterStation Technology focuses on a health- and environmental-conscious demographic. Touting the benefits of alkaline water – water that has a higher pH level than average drinking water – the company provides investors with a package of units that are dispersed in secured partner locations. Within these units, water is percolated through a series of natural minerals to create a virtual spring with electrolytes and an alkaline pH. The self-serve mobile business enables owners to bring its products and services directly to customers, offering convenience and a product that company representatives have dubbed as "thriving."
"With shelves empty of plastic water bottles, more buyers are discovering filtered alkaline water from our WaterStation locations," Humphrey said. "Our revenue trends are increasing because more customers are going to store locations offering an unlimited supply of safe, purified alkaline water providing tangible benefits to the customers, store owners and profit-sharing investors. This past March and April were the largest order months in the company's history."
After identifying water as the second-fastest growing category in grocery stores, the company launched in the greater Seattle area in 2012. Their groundbreaking self-serve purification systems that produce premium mineral water were introduced in the early stages of a refillable beverage container comeback. According to company data, consumers began to veer away from plastic water bottles because research showed they contain 40 percent tap water and a massive escalation of microplastics.
WaterStation Technology's reinvention of this beverage service has resulted in a product that is more affordable than most bottled water and more ecologically responsible. The company's passive turnkey investment opportunity gives investors complete autonomy and is listed as the top benefit for those interested in business ownership.
"WST's Business Alliance Owner profit-sharing investment model has proven to be not only recession-
proof, but we are also finding our services are helping during this COVID-19 crisis," Humphrey said.
And Humphrey said, the Small Business Administra-tion is currently providing a captivating debt-relief program.
"Advantages to our investors of this relief program include lower interest rates and subsidy principal and interest payments for six months, meaning there is no obligation for payment," Humphrey concluded. "This allows the WaterStations to ramp up revenues during that period, allowing minimal or no need to have the working capital to cover the loan payment."
For more information about business opportunities, contact Dick Humphrey at dhumphrey@waterstationtechnology.com.
– Jessica Jones