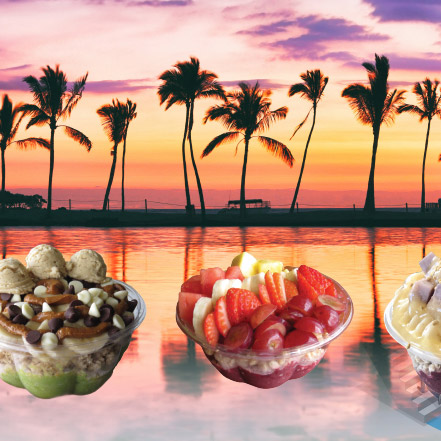 Jessica Kamana'o, also known as Jess Da Best, began her local acai-bowl business eight years ago in Hawaii, with all-natural, quality ingredients and a wholesome, unique blend of flavors. By Heidi Lubrani
Jessica Kamana'o, also known as Jess Da Best, began her local acai-bowl business eight years ago in Hawaii, with all-natural, quality ingredients and a wholesome, unique blend of flavors. Kamana'o has turned to her local community as her customers as well as her producers. "By supporting us, our customers are supporting six to eight different local businesses themselves. This business supports other small businesses and those local economies and communities, so now you have a business with a purpose," explained the founder of HI Cravings. "Without the support of the local community, we would not be where we are today."
The concept behind HI Cravings is not limited to tropical flavors or an island lifestyle – it's naturally adaptable to any market across the nation. "Whether you open in Hawaii, California, Texas, Florida or New York, anywhere you are, you are getting those local farmers and that local produce," said Kamana'o.
In addition to using fresh, locally sourced ingredients, the brand has set customer satisfaction as a priority since its creation. Whether they are building their own bowls or looking for a healthy party tray option, customers are provided with exceptional service tailored to their needs. "We made different blend options using different bases, flavors and fruits, depending on what was in season. Whether you are gluten-free or vegan, our customers can choose what they want," Kamana'o said.
The community-centered brand and its fresh and colorful bowls have amassed quite a following – and for good reason. "When you come to us, you actually get what you see on the menu and Instagram. Our customers tend to do the marketing for us because they are taking pictures of their beautiful bowls in whatever setting they are in. Our slogan is 'a picture-perfect product with a picture-perfect taste,' and we hold true to it," concluded Kamana'o.
Heidi Lubrani
Contact: hicravings.com