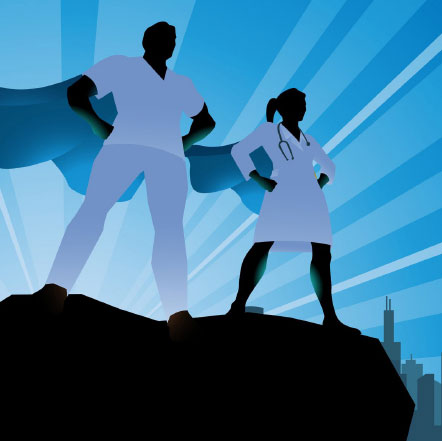 The four founding partners of i4 Search Group were on an important mission when they started their national permanent placement healthcare recruiting firm. By Brianna Bohn
The four founding partners of i4 Search Group were on an important mission when they started their national permanent placement healthcare recruiting firm. With over 15 years of experience as franchise owners of 24 territories in a different franchised recruiting system, Rob Dallaire and his team knew they wanted to help aspiring entrepreneurs thrive.
"We know what works well in a franchise system and what is fundamentally broken. We reimagined what a franchise system should look like from the perspective of franchisees. With this, we were able to build a healthcare recruiting company, with large territories, that allows franchisees to create real wealth and sell something of value when they exit," said Dallaire, president of i4 Search Group.
Since day one, the brand has been dedicated to refining its model so that franchisees can walk in the door poised for growth. For that reason, i4 Search Group was incorporated in 2019 and began running the company with a handful of corporate recruiters the first year. This allowed i4 to prove its model, get standard operating procedures in place and prepare franchise documents with the help of Spadea Lignana, franchise attorneys who act as "outsourced in-house counsel," according to Dallaire. As expected, the founders' plan worked.
"We awarded our first territory in March 2021, and we now have 15 franchise partners signed and 19 territories sold," Dallaire said. "Multiple franchisees have already bought second and third territories within the first year because they recognize the ROI is so great."
The home-based business has a low startup cost under $100,000 and a quick path to profitability. Dallaire is proud of the brand's simple-to-follow franchise system, which is rooted in its robust operating manual. He credits Kit Vinson of FranMan for organizing his standard operating procedures and helping his company upload the living document to a cloud-based system where it can be updated in real time with franchisee input.
Prospective franchisees of any background can invest in this business, although ramp-up may be quicker if they have experience in healthcare or recruiting. No matter the franchisee's background, i4's four-phase training program helps build proficiency in its model. The first phase of training introduces new franchise partners to the core technology component of their business, the applicant tracking system (ATS). After an exhaustive hunt testing multiple solutions, i4 Search Group partnered with LOXO, a leader of applicant tracking software and a third-generation technology that allows i4 to execute at a high level, making franchisees' lives easier.
"i4 was the right fit because I'd be my own boss, have a flexible schedule and have direct control of my success.  I jumped in with no turning back and paid my territory off in three months. In my fourth month, I earned more that month than I did in my prior year as an RN."

Laci Dallaire RN, Franchisee, Tennessee and Michigan
"LOXO holds the brand standard in line tightly, and it allows us to do something unique. Other franchise recruiting systems have siloed ATS, which is a terrible way to do business, so we have a shared national ATS, where franchisees have visibility to all of the candidates and job folders," Dallaire said. The brand also works closely with Next Level Exchange, a third-party company that is an industry leader in agency recruiting training, to further prepare franchisees for success.
Franchisees have found these tools and support invaluable. "I couldn't have asked for a better base to get started from.  It took about 45 days until I had my first candidate receive an offer and then another came through shortly thereafter.  I knew, after those first two placements, this was going to be perfect for me," said Brian Wardell, a Florida franchisee.
"As a daughter of two hard-working parents and a first-generation American citizen, I can't put into words how grateful I am for the hope i4 Search Group has given my family. Honestly, it's hard to wrap my head around the earning potential. I look forward to great success and for opportunities to give back to those in need."

Sandee Gruner, Franchisee, Texas
Brianna Bohn