Water Conservation Leader Debuts in Utah, California, South Carolina and Indiana.
RICHMOND, Va. — Conserva Irrigation, the only national outdoor irrigation company founded on the concept of water conservation, announced today the company added 14 new territories to the system in the first half of 2020. Partnering with seven new franchisees, Conserva Irrigation has eclipsed more than 90 territories nationwide and debuted in four new states including Utah, California, South Carolina and Indiana. Despite the impact of the coronavirus pandemic, Conserva Irrigation also achieved a 25% increase in YOY sales through Q1 and Q2 and is on track for continued growth.
"Thanks to our dedicated employees and franchisees, we've been able to weather the coronavirus pandemic and continue our expansion across the U.S., while building sales in our existing territories. Our team has never wavered from our values to provide the best product and service within our industry," said Russ Jundt, founder of Conserva Irrigation. "The pandemic has adjusted our operations and training protocol, but our strong company culture has kept us together. We've built the momentum needed to attract new franchisees looking to take control of their destiny underneath a proven recession-resistant franchise model."
In addition to Conserva's recession-resistant model, strong consumer demand and the introduction of contactless services has allowed the water conversation leader to continue to excel. With that success, the company has continued to hire technicians across various territories and offer employment opportunities during a time when unemployment is reaching all-time highs. Additionally, as a result of the pandemic, Conserva Irrigation has launched a virtual franchisee training, where sample equipment is shipped directly to the candidate as they follow in-depth training tutorials in order to quickly onboard new franchisees amid recommended social distancing measures.
In Q3 and Q4, Conserva Irrigation is looking to expand further throughout the United States and is seeking single- and multi-unit operators with a range of experience levels, as well as those looking for add-on or conversion business opportunities. Potential franchisee candidates should be willing to initially invest between $81,800 and $102,250. Incentives are also available for veterans, multi-territory agreements and those with existing businesses or are an employee of an existing franchisee.
For more information about franchise opportunities with Conserva Irrigation, visit ConservaIrrigation.com, IrrigationFranchise.com or OutdoorLivingBrands.com.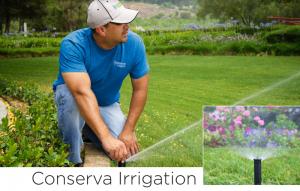 About Conserva Irrigation
Founded as a franchise in 2017, Conserva Irrigation is the only national outdoor irrigation company founded on the principle of water conservation. The brand is part of Outdoor Living Brands, a market-leading franchisor of premium residential and commercial outdoor living services. With 90+ territories operating across the country and growing, Conserva Irrigation is helping home and business owners reduce water consumption through its use of a proprietary irrigation auditing system and water-efficient irrigation products. Conserva Irrigation recently debuted on Entrepreneur Magazine's 2020 Franchise 500 list at #296, followed by recognition in Entrepreneur's 2020 Top New Franchises list at #7 and among Financial Times' 2020 America's Fastest Growing Companies list. For more information about Conserva Irrigation, visit https://www.conservairrigation.com/ or OutdoorLivingBrands.com.