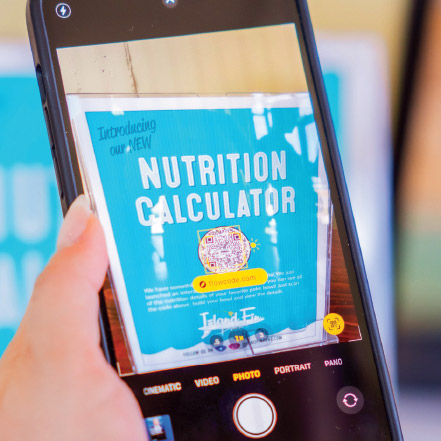 Island Fin Poké Co. is an island-themed, fast-casual restaurant with a build-your-bowl concept, where guests select various fresh and delicious ingredients to build their own meals. The build-your-bowl experience starts with a base of rice or salad and then a high-quality protein that includes vegan options. By Cindy Charette
Build Your Own Bowl
Island Fin Poké Co. is an island-themed, fast-casual restaurant with a build-your-bowl concept, where guests select various fresh and delicious ingredients to build their own meals. The build-your-bowl experience starts with a base of rice or salad and then a high-quality protein that includes vegan options. Next, guests can choose from various mix-ins, marinating sauces, toppings, and finishing sauces.
Guest Appreciation and Loyalty
Guests return time and time again because they love the food – many probably without ever realizing that about 98% of the menu is gluten-free. In fact, according to Mark Setterington, CEO and founder of Island Fin Poké, only three items on the menu contain gluten. When it comes to menu options, Setterington is committed to offering gluten-free items and also the freshest of foods that do not contain preservatives, are locally and responsibly sourced, and never frozen. Additionally, only premium gluten-free soy sauce is used as the base for the brand's marinating sauces. And when Island Fin Poké was seeking out a dessert offering, the brand selected Dole Whip because it is gluten-free, dairy-free, fat-free, and vegan-friendly.
When Setterington visits other poké restaurants – and he goes to all of them – he often finds limited menus with few gluten-free options. Setterington recognizes that his commitment to offering so many gluten-free options has far-reaching effects, especially for the guest who can feel comfortable ordering with her four sons who have celiac disease. "It's a commitment, and we pay for premium ingredients because we know that the gluten-free lifestyle is such a thing now," Setterington explained. "We thought it was a kind of a niche market that was underserved, and it was really easy to do with the type of food that we wanted to serve in a poké bowl. It just makes sense."
Commitment to Long-term Success
Setterington, also committed to a growth strategy for the long-term success of franchisees, is always looking at ways to stand out and make improvements. He said he is excited to announce a new calculator counter that has been added to the Island Fin Poké website. Guests will be able to build their perfect poké bowl online, and the calculator will show the total calories, fat, protein, and so on, that each item in the bowl will contain. Guests then can print a copy of their final creation and bring it to the restaurant to build their bowl.
Setterington is also developing an app that is scheduled to go live this month, which will offer the calculator soon after launching. Guests will be able to download the app, and once they build their bowl online, the order will be sent to their predetermined Island Fin Poké closest to home.
Additional announcements for 2022 include the development of airport locations and international franchises, as well as hitting the South Florida area hard. Setterington said Island Fin Poké will be developing from Saint Lucie County to Key West, Florida, with a recently signed deal. The first location will be opening in Miami. Setterington said he is excited to have the opportunity to prove the brand's success with Island Fin Poké's first urban restaurant.
Cindy Charette
Contact: islandfinpoké.com