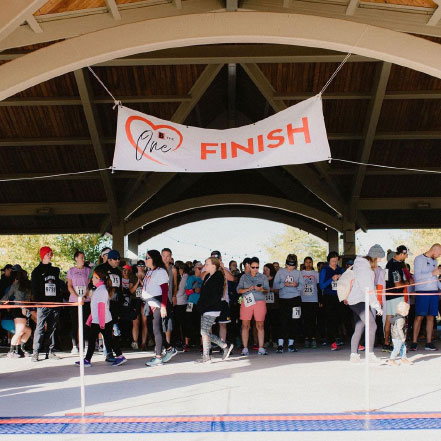 In addition to being known for its BIGG List of Drinks and scrumptious food offerings served with a smile, BIGGBY® COFFEE does more than satiate caffeine cravings. By Brianna Bohn
GIVING BACK
In addition to being known for its BIGG List of Drinks and scrumptious food offerings served with a smile, BIGGBY® COFFEE does more than satiate caffeine cravings.
The specialty coffee franchise's purpose is clear: to help you "build the life you love," whether you're a franchisee, employee or an avid coffee drinker. While the company doles out perks to BIGGBY Nation members, including birthday freebies, coupons and a frequency reward program, its impact on the community dives much deeper.
Since founding the unique coffee concept in 1995, Co-CEOs Bob Fish and Mike McFall have been driven to help others. In fact, Fish explained the full-circle effect of being engaged in the community: "Giving is getting."
"At the core of our brand is people, and we believe them to be the most important part of the BIGGBY COFFEE ecosystem. Much like the communities our franchises are located in, the people who reside within them are the most important part, too. At BIGGBY COFFEE, we are systems- and process-driven, and the community outreach and involvement are intentionally woven throughout them when created," said Jaime Balazy, director of marketing.
With 354 locations and counting across the U.S., BIGGBY COFFEE's impact has been far-reaching. Grand openings not only drum up interest in the brand's crave-worthy creations, but they also kick-start each franchisee's commitment to a continued impact in the community.
"During the week of opening, the location partners with a local organization, collects donations at the store and participates in co-branded advertising," Balazy explained.
But it doesn't end there. Staying true to its core values, BIGGBY COFFEE encourages franchisees to become mainstays of their communities.
"Many of our franchisees and their locations partner with local nonprofits, other local businesses and their local school districts. They have donated not only delicious products to fuel the communities they reside in, but they also donate their time and have helped raise funds for organizations as well," said Balazy, who explained that the brand has partnered with organizations such as Feeding America, i understand and the Special Olympics.
Those interested in making a BIGG impact in their community are encouraged to learn more about all BIGGBY COFFEE has to offer.
Brianna Bohn