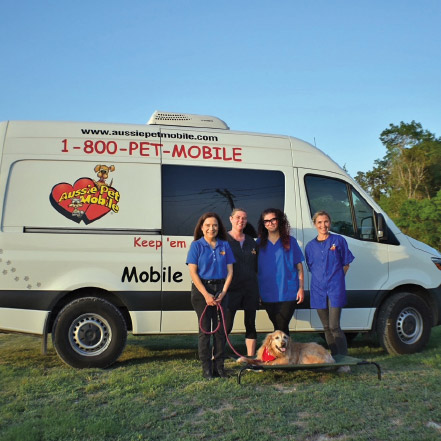 After 35 years in the oil and gas industry, Mary Brimhall started making plans for retirement and her next journey. While speaking with a close friend, she was introduced to the concept of franchise business ownership. From there, the wheels started turning. By Jennifer Callender
After 35 years in the oil and gas industry, Mary Brimhall started making plans for retirement and her next journey. While speaking with a close friend, she was introduced to the concept of franchise business ownership. From there, the wheels started turning. She knew that her business had to bring about success through her passion: pets. Brimhall spent about a year after retirement in search of the right business, and after finding Aussie Pet Mobile, she used her retirement funds to invest in her first franchise and live her dream. Six years later, she has five pet mobiles across two territories. "Business is growing more than I ever expected," Brimhall said. "It simply warms my heart when we drive up, and the pets recognize us, and they're so happy to see us."
Brimhall said her formula for success is the ability to leverage her years of experience in project management and customer service. Also, she knew early on that the success of the business hinged on finding a strong team of experienced groomers. "When I couldn't find experienced groomers, I changed my search and started simply looking for someone that shared my passion for pets, and I knew I could train them to be a groomer," Brimhall said. She is particularly proud of her experienced grooming team. Her lead groomer, Tracy, started four years ago in the training program and has now won Groomer of the Year for the last two years.
Founded in Australia in 1996, Aussie Pet Mobile was established in the U.S. in 1999 and has grown to become the Number One brand in mobile-pet grooming. Since opening, Aussie Pet Mobile has expanded to more than 70 franchisees to serve the millions of households that own dogs and cats.
"My advice for anyone interested in this industry: Aussie Pet Mobile is a great company to be a part of. You simply need to be passionate about pets, work smart, and have fun," Brimhall said.
Jennifer Callender